Outer Hair Cell and Auditory Nerve Function in Speech Recognition in Quiet and in Background Noise
ABSTRACT
---
The goal of this study was to describe the contribution of outer hair cells (OHCs) and the auditory nerve (AN) to speech understanding in quiet and in the presence of background noise. Fifty-three human subjects with hearing ranging from normal to moderate sensorineural hearing loss were assayed for both speech in quiet (Word Recognition) and speech in noise (QuickSIN test) performance. Their scores were correlated with OHC function as assessed via distortion product otoacoustic emissions, and AN function as measured by amplitude, latency, and threshold of the VIIIth cranial nerve Compound Action Potential (CAP) recorded during electrocochleography (ECochG). Speech and ECochG stimuli were presented at equivalent sensation levels in order to control for the degree of hearing sensitivity across patients. The results indicated that (1) OHC dysfunction was evident in the lower range of normal audiometric thresholds, which demonstrates that OHC damage can produce "Hidden Hearing Loss," (2) AN dysfunction was evident beginning at mild levels of hearing loss, (3) when controlled for normal OHC function, persons exhibiting either high or low ECochG amplitudes exhibited no statistically significant differences in neither speech in quiet nor speech in noise performance, (4) speech in noise performance was correlated with OHC function, (5) hearing impaired subjects with OHC dysfunction exhibited better speech in quiet performance at or near threshold when stimuli were presented at equivalent sensation levels. These results show that OHC dysfunction contributes to hidden hearing loss, OHC function is required for optimum speech in noise performance, and those persons with sensorineural hearing loss exhibit better word discrimination in quiet at or near their audiometric thresholds than normal listeners.
No MeSH data available.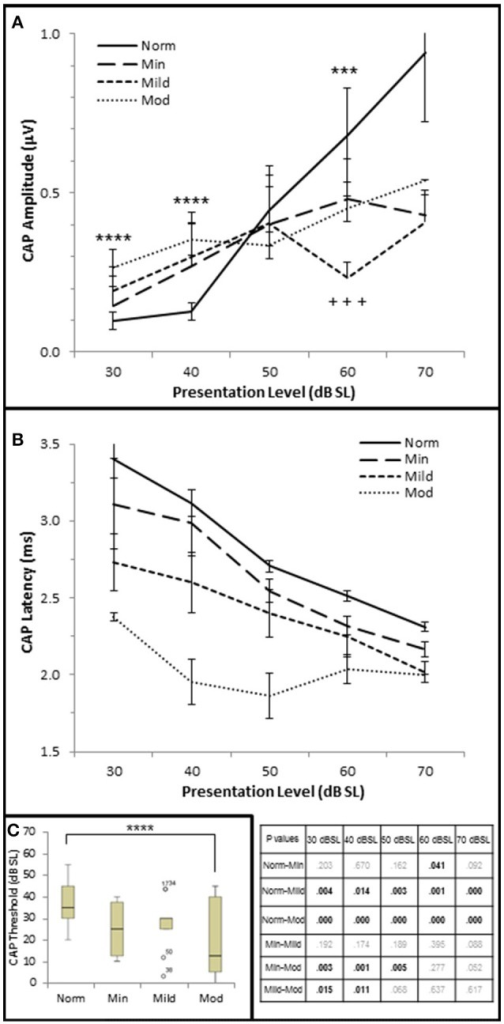 © Copyright Policy
License
getmorefigures.php?uid=PMC5383716&req=5
Mentions: Next, CAP amplitude, latency, and thresholds were analyzed to study AN function within these groups. There was a direct correlation between hfPTA and CAP amplitude when 4 kHz tone pips were presented at 30 dB SL (τb = 0.209, p = 0.038; data not shown) and 40 dB SL (τb = 0.336, p = 0.001; Figure 2E) presentation levels. However, there was a difference in amplitude-intensity function between these groups (Figure 6A). The Normal hfPTA group exhibited small CAP amplitudes at low stimulus presentation levels (30–40 dB SL; R2 = 0.82, y = 0.0708x, intercept = 0.00) and a steep growth function in amplitude at 50–70 dB SL (R2 = 0.87, y = 0.3307x, intercept = 0.00) at higher presentation levels. In contrast, subjects in the Minimum, Mild, and Moderate SNHL groups exhibited a steeper growth function at low intensity levels, and flatter growth function at 50 dB SL and above. J–T testing between groups showed that presentation levels below 50 dB SL elicited progressive increases in CAP amplitude between Normal hfPTA and Moderate SNHL groups. Specifically, the Moderate SNHL group exhibited a statistically significant (p = 0.033) 0.17 μV increase over the Normal hfPTA group at 30 dB SL, and a statistically significant (p = 0.003) 0.23 μV increase over the Normal hfPTA group at 40 dB SL. Interestingly, tone pip presentation levels >50 dB SL resulted in a statistically non-significant (τβ = −0.072, p = 0.497; Figure 2F) trend in the opposite direction whereby the hearing impaired groups exhibited diminished CAP amplitudes compared to those in the Normal hfPTA group (Figure 6A). As can be seen by the error bars in Figure 6A, the group with better hearing exhibited increased amplitude variability at louder presentation levels. The only statistically significant difference between groups at louder presentation levels occurred at 60 dB SL between the Normal hfPTA and Mild SNHL groups (−0.45 μV difference, p = 0.003) and between Minimum and Mild SNHL groups (−0.23 μV difference, p = 0.045). Also unlike lower presentation levels, there was not a graded decrease in amplitude as a function of hfPTA at presentation levels above 50 dB SL. This may be due to the fact that many persons in the Moderate SNHL group had hfPTAs so great that the stimuli could either not be generated at such a high level (i.e., 105 dB SPL), or that these presentation levels were intolerably loud for the subjects.