Bacterial and Fungal Community Structures in Loess Plateau Grasslands with Different Grazing Intensities
ABSTRACT
---
The Loess Plateau of China is one of the most fragile ecosystems worldwide; thus, human production activities need to be conducted very cautiously. In this study, MiSeq high-throughput sequencing was applied to assess the relationship between bacterial and fungal community structures and changes in vegetation and soil physical and chemical properties induced by grazing, in four grasslands with different levels of grazing intensity (0, 2.67, 5.33, and 8.67 sheep/ha) in the semiarid region of the Loess Plateau. The relative abundances of the bacterial community in the grasslands with 2.67 and 5.33 sheep/ha were significantly higher than those in grasslands with 0 and 8.67 sheep/ha, and the fungal diversity was significantly lower for grasslands with 2.67 sheep/ha than for the other grasslands. Redundancy analysis (RDA) showed that plant biomass, nitrate, and total nitrogen have significant effects on bacterial community structure, whereas nitrate and total nitrogen also significantly affect fungal community structure. Variation partitioning showed that soil and plant characteristics influence the bacterial and fungal community structures; these characteristics explained 51.9 and 52.9% of the variation, respectively. Thus, bacterial and fungal community structures are very sensitive to grazing activity and change to different extents with different grazing intensities. Based on our findings, a grazing intensity of about 2.67 sheep/ha is considered the most appropriate in semiarid grassland of the Loess Plateau.
No MeSH data available.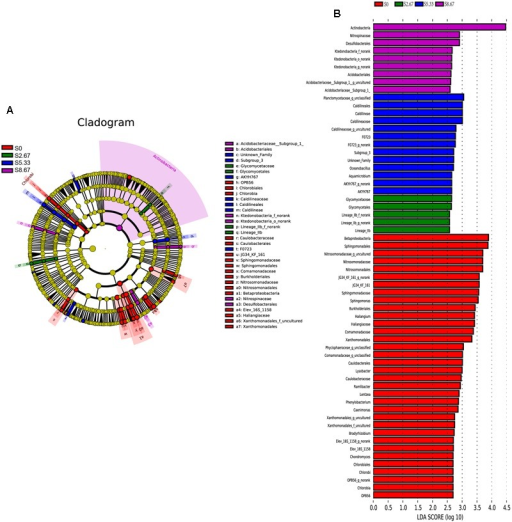 © Copyright Policy
License
getmorefigures.php?uid=PMC5383705&req=5
Mentions: Groups were shown in cladograms, and LDA scores of 2 or greater were confirmed by LEfSe (Figures 4, 5). In S0, six groups of bacteria and two groups of fungi were significantly enriched, namely Chlorobi (from phylum to genus), Betaproteobacteria (the class and orders of Burkholderiales and Nitrosomonadales to genus), Caulobacterales (from order to genus), Sphingomonadales (the order and families JG34_KF_161 and Sphingomonadaceae), Xanthomonadales (the order and its family), Elev_16S_1158, and Haliangiaceae (within Deltaproteobacteria), and Pucciniomycetes (the order and its family Platygloeales), and Zygomycota (from phylum to family) (Figures 4, 5). In S2.67, fewer microbes were significantly enriched; the bacteria Glycomycetales (the order and its family Glycomycetaceae) and Lineage_IIb (from order to genus; Elusimicrobia) were enriched, while no fungi were detected at a significant level (Figures 4, 5). In S5.33, four groups of bacteria and 1 group of fungi were detected to be significantly enriched, namely Subgroup_3 (the order and its family Unknown_Family), AKYH767 (order), Caldilineae (from class to genus), F0723 (order), and Leotiomycetes (from order to family) (Figures 4, 5). In S8.67, Actinobacteria was enriched only at the phylum level, and no significant enrichment was detected at any other clade. In addition, the enriched bacteria were Acidobacteriales (from order to genus), Ktedonobacteria (from order to genus), and Desulfobacterales (the order and its family Nitrospinaceae), and the only enriched fungi were Pezizales (Pezizales_f_norank), enriched at the family level (Figures 4, 5). Additionally, we used primers that detect other eukaryotic groups, such as Chloroplastida, Amoebozoa, Holozoa, Alveolata, Discicristoidea, and Rhizaria; however, no significant differences were found among the four grasslands with different grazing regimens (Figure 5).