Stress sensitivity of a fission yeast strain lacking histidine kinases is rescued by the ectopic expression of Chk1 from Candida albicans
ABSTRACT
---
The development of new drugs against the pathogenic yeast Candida albicans is compelling and the evolution of relevant bioassays is important to achieve this goal. Promising drug targets are proteins that lack human counterparts which are true for the His-to-Asp phosphorelay signal transduction systems, important for stress sensing in bacteria, fungi, and plants. In the pathogenic yeast, Candida albicans, the CaChk1 histidine kinase is a trigger of the pathway that leads to a switch from yeast to hyphal growth necessary for invasion. Intriguingly, the model yeast Schizosaccharomyces pombe has a similar phosphorelay system, with three histidine kinases named Mak1, Mak2, and Mak3, which are important for the prevention of aberrant mating and sporulation on rich media. This study uncovered distinct functions for the three histidine kinases; Mak1 alone or Mak2 and Mak3 together were sufficient for the repression of the meiotic cycle when nutrients were available. Moreover, strains lacking histidine kinase genes were sensitive to various types of stress conditions in an auxotrophic strain background, while the stress sensitivity was lost in prototrophic strains. Finally, the stress sensitivity of a S. pombe strain that lacks endogenous histidine kinases could be complemented by the ectopic expression of the CaChk1 histidine kinase from C. albicans. This finding opens up for the possibility to perform a drug screen with a biological read-out in S. pombe to find inhibitors of CaChk1.
Electronic supplementary material: The online version of this article (doi:10.1007/s00294-016-0644-9) contains supplementary material, which is available to authorized users.
No MeSH data available.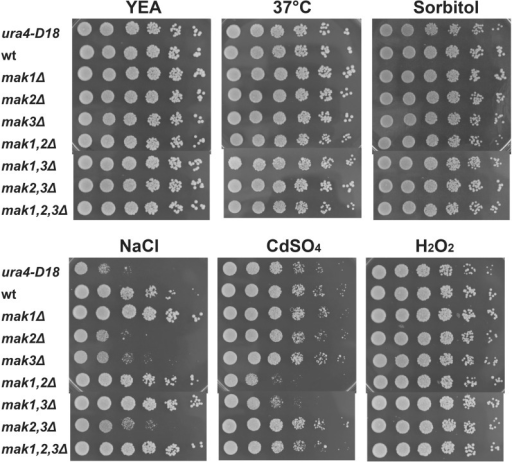 © Copyright Policy - OpenAccess
License
getmorefigures.php?uid=PMC5383687&req=5
Mentions: Since the aberrant sporulation phenotype, with sporulation in the presence of nutrients, was dependent on the auxotrophic markers, we decided to test the contribution to the stress sensitivity of these mutations (Fig. 2a, b). By crossing, a similar set of h− knockout strains, as used in Fig. 3, was created, but now as Ade+ and Ura+, but still Leu- (to be able to test for complementation by plasmid derived HKs). To our surprise, most of the stress sensitive phenotypes were not displayed by these strains (Fig. 6). The sensitivity to heat and sorbitol was gone, but the sensitivity to NaCl and cadmium remained. The sensitivity to heavy metal followed a similar pattern as for the auxotrophic strains (compare Fig. 3b middle panel to Fig. 6, lower, middle panel), but on plates with NaCl, there were different mutant strains with poor growth (compare Fig. 3a right to Fig. 6, lower, left panel). For the new set of Ade+ Ura+ strains, two single knockout strains, mak2Δ and mak3Δ, and the double knockout strain mak2,3Δ were sensitive to NaCl. Mak1 clearly had an inhibitory effect on growth on media with elevated NaCl levels, since all strains lacking Mak1 grew well (Fig. 6 lower left panel: mak1Δ, mak1,2Δ, mak1,3Δ, mak1,2,3Δ).Fig. 6