Expression of Pennisetum glaucum Eukaryotic Translational Initiation Factor 4A ( PgeIF4A ) Confers Improved Drought, Salinity, and Oxidative Stress Tolerance in Groundnut
ABSTRACT
---
Eukaryotic translational initiation factor 4A belong to family of helicases, involved in multifunctional activities during stress and non-stress conditions. The eIF4A gene was isolated and cloned from semi-arid cereal crop of Pennisetum glaucum. In present study, the PgeIF4A gene was expressed under the regulation of stress inducible Arabidopsis rd29A promoter in groundnut (cv JL-24) with bar as a selectable marker. The de-embryonated cotyledons were infected with Agrobacterium tumefaciens (LBA4404) carrying rd29A:PgeIF4A construct and generated high frequency of multiple shoots in phosphinothricin medium. Twenty- four T0 plants showed integration of both nos-bar and rd29A-PgeIF4A gene cassettes in genome with expected amplification products of 429 and 654 bps, respectively. Transgene copy number integration was observed in five T0 transgenic plants through Southern blot analysis. Predicted Mendelian ratio of segregation (3:1) was noted in transgenic plants at T1 generation. The T2 homozygous lines (L1-5, L8-2, and L16-2) expressing PgeIF4A gene were exhibited superior growth performance with respect to phenotypic parameters like shoot length, tap root length, and lateral root formation under simulated drought and salinity stresses compared to the wild type. In addition, the chlorophyll retention was found to be higher in these plants compared to the control plants. The quantitative real time—PCR results confirmed higher expression of PgeIF4A gene in L1-5, L8-3, and L16-2 plants imposed with drought/salt stress. Further, the salt stress tolerance was associated with increase in oxidative stress markers, such as superoxide dismutase accumulation, reactive oxygen species scavenging, and membrane stability in transgenic plants. Taken together our results confirmed that the PgeIF4A gene expressing transgenic groundnut plants exhibited better adaptation to stress conditions.
No MeSH data available.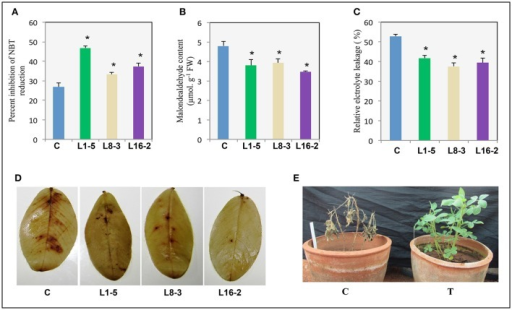 © Copyright Policy
License
getmorefigures.php?uid=PMC5383670&req=5
Mentions: The superoxide dismutase (SOD) activity in control and transgeni lines (T2) was assessed by measuring th percentage of NBT inhibition. The percentage of NBT inhibition in control was noted as 26.9% compared to the transgenic lines such as L1-5, L8-3, and L16-2 was 46.7, 33.3, and 37.2%, respectively (Figure 8A). It indicated that the superoxide dismutase accumulation was significantly increased, thery by improved the scavenging of reactive oxygen species in PgeIF4A expressing transgenic plants. The lipid peroxidation of control and transgenic lines were estimated in leaf tissues by measuring the MDA accumulation through TBARS assay. The higher MDA accumulation was observed in control (4.8 μmol/g FW) compared to transgenic lines L1-5, L8-3, and L16-2 (3.8, 3.9, and 3.4 μmol/g FW in, respectively (Figure 8B). The percentage of ion electrolyte leakage was higher in control (52.8%), compared to transgenic lines L1-5, L8-3, and L16-2 (41.6, 37.4, and 39.4% in, respectively; Figure 8C). It indicated that the electrolyte leakage in transgenics was significantly lower than the control plants, thereby enhanced the membrane stability during stress conditions. Further, 3, 3′ Diaminobenzidin (DAB) analysis detected in-situ H2O2 accumulation. H2O2 was visually detected by staining the leaves of PgeIF4A expressing transgenic and wild type plants under salinity stress (Figure 8D). The reddish brown color produced by DAB in transgenics was visually less compared to control plants, which indicated less H2O2 production in transgenic plants. Apart from these biochemical parameters, stress induced control plants showed leaf necrosis, bleaching of chlorophyll, and mortality compared to transgenic plants. The transgenic plants recovered completely (Figure 8E). The percentage of salt stress induced oxidative stress damage in L1-5, L8-3, and L16-2 lines was significantly lower than the control plants. The transgenic lines expressing PgeIF4A displayed improved membrane stability and RO scavenging capacity.