Salivary Oxytocin Concentration Associates with the Subjective Feeling of Body Ownership during the Rubber Hand Illusion
ABSTRACT
---
Oxytocin is a hormone of the posterior pituitary that promotes lactation, maternal bonding, and birth. Recent studies have shown that oxytocin may modulate social recognition in both sexes, and thus it may be related to empathy. Brain regions that are associated with social recognition and empathy (e.g., the insular cortex) are activated in the rubber hand illusion (RHI), which involves illusory ownership of a rubber hand caused by brush strokes applied synchronously to both a rubber hand and one of the participant's hand, which is hidden from view. It is intriguing to examine whether oxytocin modulates plastic changes in body representation, such as the changes occurring in the RHI. In the present study, we investigated the relationship between salivary oxytocin concentration and the feeling of rubber hand ownership. Brush strokes were applied synchronously or asynchronously to the participant's hand and a rubber hand on different days. Salivary oxytocin was measured before and after the behavioral tasks. We found that participants who had high concentrations of salivary oxytocin tended to feel strong ownership of the rubber hand. We also found that the participants with a high autism spectrum quotient (AQ) score who particularly felt difficulties in social skills and communications tended to feel weak rubber hand ownership. We observed that illusory body ownership was closely linked to social communications and a related neuroendocrine basis. The results of the present study suggest that an individual's salivary oxytocin concentration can predict the extent to which the individual experiences the RHI; furthermore, oxytocin might modulate the sensation of body ownership.
No MeSH data available.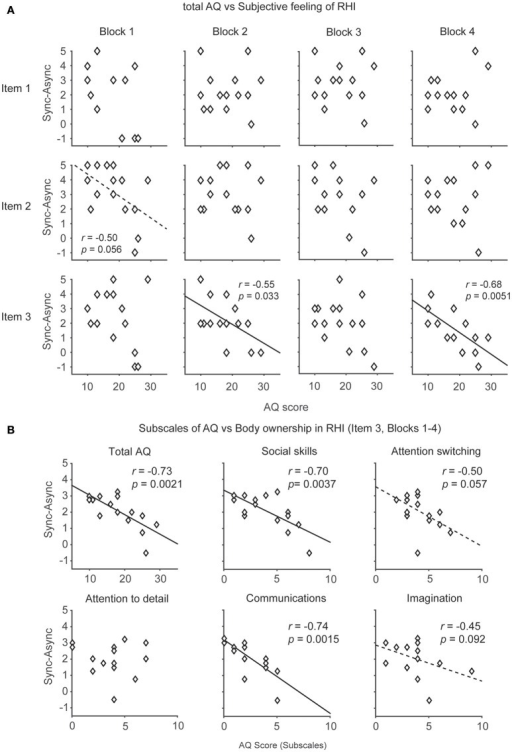 © Copyright Policy
License
getmorefigures.php?uid=PMC5383663&req=5
Mentions: We also compared the relationship between the AQ score (Wakabayashi et al., 2004) and the subjective feeling driven by the RHI because recent evidence showed that individuals with ASD have limited subjective responses in the RHI (Paton et al., 2012). The analysis of Item 3 (body ownership of the rubber hand) revealed that the AQ score was negatively correlated with illusory ownership in Blocks 2 and 4 (r = −0.55, p = 0.033 < 0.05, Power (1-β) = 0.6; r = −0.68, p = 0.0051 < 0.01, Power (1-β) = 0.85, respectively, Pearson product-moment correlation coefficients, Figure 3A, Table 3). When data from Blocks 1–4 were combined for better S/N ratio, strong correlation was observed (r = −0.73, p = 0.0021 < 0.01, Power (1-β) = 0.92, Figure 3B). Furthermore, two of the subscales of the AQ score (difficulties in "Social skills" and "Communications") showed a strong negative correlation with illusory ownership (r = −0.70, p = 0.0037 < 0.01, Power (1-β) = 0.88; r = −0.74, p = 0.0015 < 0.01, Power (1-β) = 0.93, respectively, Pearson product-moment correlation coefficient, Figure 3B). Two other subscales (difficulties in "Attention switching" and "Imagination") showed a similar, although not significant, trend (r = −0.50, p = 0.057, Power (1-β) = 0.5; r = −0.45, p = 0.092, Power (1-β) = 0.41). The other subscale showed no significant correlation ["Attention to detail," r = −0.014, p = 0.96, Power (1-β) = 0.05]. These results suggest that the participants with high AQ scores, especially those who felt difficulties in social communications, tended to feel a weak illusory ownership sensation. Furthermore, we found that the difficulties in "Communications" in AQ score was negatively correlated with the salivary oxytocin concentration (r = −0.55, p = 0.034 < 0.05, Power (1-β) = 0.6). In contrast, the total AQ and the other subscales were failed to reach statistical significance [Total AQ, "Social skills," "Attention switching," "Attention to detail," "Imagination," r = −0.38, p = 0.17, Power (1-β) = 0.29; r = −0.23, p = 0.42, Power (1-β) = 0.13; r = 0.080, p = 0.78, Power (1-β) = 0.06; r = −0.078, p = 0.78, Power (1-β) = 0.06; r = −0.40, p = 0.14, Power (1-β) = 0.32, respectively]. These results indicate that body ownership as well as communication skills might be modulated by oxytocin.