Turn Up the Heat — Food and Clinical Escherichia coli Isolates Feature Two Transferrable Loci of Heat Resistance
ABSTRACT
---
Heat treatment is a widely used process to reduce bacterial loads in the food industry or to decontaminate surfaces, e.g., in hospital settings. However, there are situations where lower temperatures must be employed, for instance in case of food production such as raw milk cheese or for decontamination of medical devices such as thermo-labile flexible endoscopes. A recently identified locus of heat resistance (LHR) has been shown to be present in and confer heat resistance to a variety of Enterobacteriaceae, including Escherichia coli isolates from food production settings and clinical ESBL-producing E. coli isolates. Here, we describe the presence of two distinct LHR variants within a particularly heat resistant E. coli raw milk cheese isolate. We demonstrate for the first time in this species the presence of one of these LHRs on a plasmid, designated pFAM21805, also encoding type 3 fimbriae and three bacteriocins and corresponding self-immunity proteins. The plasmid was highly transferable to other E. coli strains, including Shiga-toxin-producing strains, and conferred LHR-dependent heat resistance as well as type 3 fimbriae-dependent biofilm formation capabilities. Selection for and acquisition of this "survival" plasmid by pathogenic organisms, e.g., in food production environments, may pose great concern and emphasizes the need to screen for the presence of LHR genes in isolates.
No MeSH data available.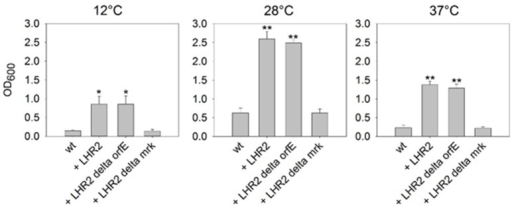 © Copyright Policy
License
getmorefigures.php?uid=PMC5383660&req=5
Mentions: Biofilm formation is an important contributor to persistence of bacteria in both food processing and clinical settings (Abdallah et al., 2014). A combination of biofilm formation with heat resistance would increase a strain's persistence even further (Bojer et al., 2011). As described above, pFAM21805 contains the mrk gene cluster encoding type 3 fimbriae, which are strongly associated with bacterial biofilm formation (Burmølle et al., 2008; Hufnagel et al., 2015). Moreover, orfE of LHR2FAM21805 encodes a putative di-guanyl cyclase, and c-di-GMP signaling has been shown to affect biofilm formation (Burmølle et al., 2008; Schroll et al., 2010; Hufnagel et al., 2015). Thus, both factors could potentially contribute to increased biofilm formation in E. coli. To investigate if this was the case, we replaced either mrkABCDF or orfE in FAM21805 with tetr (Table 1), and transferred pFAM21805 from the two corresponding mutant strains to K-12 MG1655. We then performed crystal violet (CV) assays with K-12 MG1655 nalrrifr and its transconjugants in ABTCAA for 48 h at 12, 28, and 37°C. As shown in Figure 5, the presence of intact pFAM21805 significantly increased biofilm production of MG1655. Moreover, our results show that the mrk locus—but not the putative LHR2-encoded di-guanyl cyclase—was required to increase biofilm formation in K-12 MG1655 transconjugants. Thus, pFAM21805 has the potential to confer both enhanced survival during heat stress and adhesive properties at a wide range of temperatures to E. coli recipient strains.