Integration of a CD19 CAR into the TCR Alpha Chain Locus Streamlines Production of Allogeneic Gene-Edited CAR T Cells
ABSTRACT
---
Adoptive cellular therapy using chimeric antigen receptor (CAR) T cell therapies have produced significant objective responses in patients with CD19+ hematological malignancies, including durable complete responses. Although the majority of clinical trials to date have used autologous patient cells as the starting material to generate CAR T cells, this strategy poses significant manufacturing challenges and, for some patients, may not be feasible because of their advanced disease state or difficulty with manufacturing suitable numbers of CAR T cells. Alternatively, T cells from a healthy donor can be used to produce an allogeneic CAR T therapy, provided the cells are rendered incapable of eliciting graft versus host disease (GvHD). One approach to the production of these cells is gene editing to eliminate expression of the endogenous T cell receptor (TCR). Here we report a streamlined strategy for generating allogeneic CAR T cells by targeting the insertion of a CAR transgene directly into the native TCR locus using an engineered homing endonuclease and an AAV donor template. We demonstrate that anti-CD19 CAR T cells produced in this manner do not express the endogenous TCR, exhibit potent effector functions in vitro, and mediate clearance of CD19+ tumors in an in vivo mouse model.
No MeSH data available.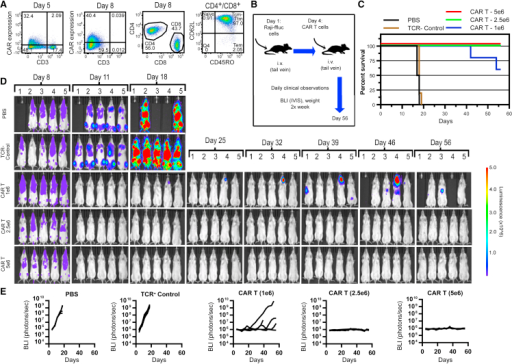 © Copyright Policy - CC BY-NC-ND
License
getmorefigures.php?uid=PMC5383629&req=5
Mentions: Finally, we tested the efficacy of gene-edited, TCR knockout anti-CD19 CAR T cells in a murine model of disseminated B cell lymphoma. Activated T cells were electroporated with TRC1-2 mRNA and transduced with AAV:TRAC:CAR. CD3− cells were then isolated on day 5 post-transduction using anti-CD3 magnetic beads, resulting in 99.9% purity as measured by flow cytometry 3 days later (Figure 6A). The purified CD3− population comprised 56% CD4+ and 44% CD8+ cells and primarily consisted of central memory (Tcm)/transitional memory (Ttm) phenotypes, determined by staining for CD62L and CD45RO (Figure 6A) and CCR7, CD27, and CD95 (Table S1). Mice were injected intravenously (i.v.) with firefly luciferase-expressing Raji cells (Raji-ffLuc) and, after 4 days, were injected i.v. with three different doses of CD3− anti-CD19 CAR T cells (Figures 6B–6E). Control mice were injected with TCR− T cells or PBS. Engraftment and growth of Raji-ffLuc cells was evident in all mice by day 4 and increased significantly in untreated and TCR− control groups by day 11 (Figures 6D and 6E). Peak CAR T cell frequencies in the blood of treated mice were observed on day 8, reaching ∼10% of cells in peripheral blood in the high-dose group (Figure S5A). Frequencies of human T cells in peripheral blood of animals in all three CAR T dose groups were significantly higher than TCR− control cell-treated mice, indicating antigen-driven expansion of the CAR T cells (Figure S5B). By days 17–19, all mice in control groups showed evidence of significant tumor burden, especially in the spine and bone marrow, resulting in complete hindlimb paralysis, and were euthanized (Figure 6C). In contrast, all groups of mice treated with anti-CD19 CAR T cells showed no evidence of tumor growth by day 11 and, with the exception of a single mouse in the low-dose group, remained tumor-free through day 32 of the study (Figures 6C–6E). Tumor re-growth was observed in three mice (mice 1, 4, and 5) in the low-dose cohort on day 39. One of the three mice (mouse 1) was found dead on day 42. Imaging revealed only a low level of tumor at a single site in this animal, and there were no clinical observations of duress or weight loss, so it is unlikely that the death was tumor-related. Interestingly, the apparent recurrence observed for mouse 5 on day 39 was no longer evident by bioluminescent imaging at all time points through day 56, possibly because of re-expansion of CAR T memory cells upon re-exposure to tumor antigen. On day 56, three of five mice in the low-dose CAR T cohort remained alive, with only one mouse showing evidence of tumor recurrence. All mice in the mid- and high-dose cohorts showed no evidence of tumor re-growth, and all were alive and gaining weight as of day 56. These results show potent in vivo clearance of CD19+ tumor cells by gene-edited CD3− CAR T cells and support further preclinical development of this platform for allogeneic CAR T cell therapy.