Systemic Injection of RPE65 -Programmed Bone Marrow-Derived Cells Prevents Progression of Chronic Retinal Degeneration
ABSTRACT
---
Bone marrow stem and progenitor cells can differentiate into a range of non-hematopoietic cell types, including retinal pigment epithelium (RPE)-like cells. In this study, we programmed bone marrow-derived cells (BMDCs) ex vivo by inserting a stable RPE65 transgene using a lentiviral vector. We tested the efficacy of systemically administered RPE65-programmed BMDCs to prevent visual loss in the superoxide dismutase 2 knockdown (Sod2 KD) mouse model of age-related macular degeneration. Here, we present evidence that these RPE65-programmed BMDCs are recruited to the subretinal space, where they repopulate the RPE layer, preserve the photoreceptor layer, retain the thickness of the neural retina, reduce lipofuscin granule formation, and suppress microgliosis. Importantly, electroretinography and optokinetic response tests confirmed that visual function was significantly improved. Mice treated with non-modified BMDCs or BMDCs pre-programmed with LacZ did not exhibit significant improvement in visual deficit. RPE65-BMDC administration was most effective in early disease, when visual function and retinal morphology returned to near normal, and less effective in late-stage disease. This experimental paradigm offers a minimally invasive cellular therapy that can be given systemically overcoming the need for invasive ocular surgery and offering the potential to arrest progression in early AMD and other RPE-based diseases.
No MeSH data available.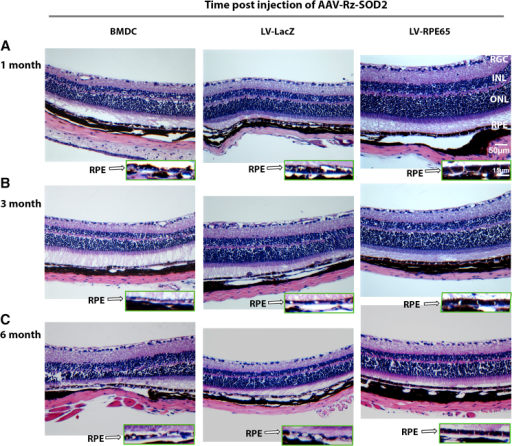 © Copyright Policy - CC BY-NC-ND
License
getmorefigures.php?uid=PMC5383551&req=5
Mentions: Pathology was similar to that reported by Justilien et al.22 (Figure S3). One month after Sod2 knockdown, the retinas began to exhibit loss of pigmentation in the RPE. The neural retina appeared relatively normal at this stage, although some disorganization of the inner and outer photoreceptor segments could be observed. At 3 months following Sod2 knockdown, more pronounced changes to the RPE, such as vacuole formation and atrophy, were observed, together with shortening and disorganization of the outer and inner segments of the photoreceptors (Figure S3), and this became progressively more severe by 6 and 9 months following Sod2 knockdown. Mice treated with control naive BMDCs or BMDC-LacZ demonstrated similar progressive pathology to that of untreated Sod2-knockdown mice, irrespective of the time administered following Sod2 knockdown (Figures 5A–5C). In contrast, mice receiving RPE65-programmed BMDCs demonstrated a mature, highly pigmented epithelial layer with RPE morphology consistent with the normal controls across all time points of systemic administration following Sod2 knockdown (Figures 5A and 5C, insets). Furthermore, the morphology of the neural retina was greatly improved in animals receiving RPE65-programmed BMDCs compared with controls. Reduced thinning of both the inner and outer retina was observed in mice treated with RPE65-programmed BMDCs at 1, 3, and 6 months after Sod2 knockdown (Figures 5 and S4). Preservation of the photoreceptor layer and inner retina was most pronounced when mice were treated 1 month after Sod2 knockdown and was comparable with that of a normal eye. However, as can be seen in Figures 5C and S4F, when RPE65-programmed BMDCs were administered after the disease phenotype had fully developed, although the RPE layer appeared to be restored to a near normal state, a significant reduction in the photoreceptor layer was not recovered by treatment with RPE65-programmed BMDCs. Overall these data highlight that (1) early intervention prevents disease progression, whereas late intervention in advanced diseases shows only modest retinal regeneration, and (2) despite considerable improvement in retinal morphology in late-stage disease, recovery of visual function was only minimal.