Tumor-associated mutant p53 promotes cancer cell survival upon glutamine deprivation through p21 induction
ABSTRACT
---
Cancer cells depend on glutamine to sustain their increased proliferation and manage oxidative stress, yet glutamine is often depleted at tumor sites due to excessive cellular consumption and poor vascularization. We have previously reported that p53 protein, while a well-known tumor suppressor, can contribute to cancer cell survival and adaptation to low glutamine conditions. However, the TP53 gene is frequently mutated in tumors, and the role of mutant p53 (mutp53) in response to metabolic stress remains unclear. Here, we demonstrate that tumor-associated mutp53 promotes cancer cell survival upon glutamine deprivation both in vitro and in vivo. Interestingly, cancer cells expressing mutp53 proteins are more resistant to glutamine deprivation than cells with wild type p53 (wtp53). Depletion of endogenous mutp53 protein in human lymphoma cells leads to cell sensitivity to glutamine withdrawal, while expression of mutp53 in p53 cells results in resistance to glutamine deprivation. Furthermore, we found that mutp53 proteins hyper-transactivate p53 target gene CDKN1A upon glutamine deprivation, thus triggering cell cycle arrest and promoting cell survival. Together, our results reveal an unidentified mechanism by which mutp53 confers oncogenic functions by promoting cancer cell adaptation to metabolic stresses.
No MeSH data available.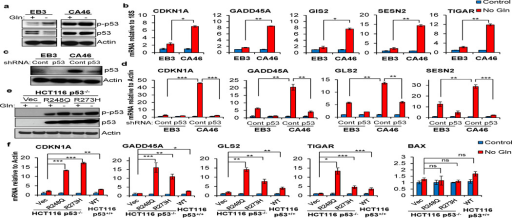 © Copyright Policy
getmorefigures.php?uid=PMC5383530&req=5
Mentions: It has been reported that cell survival promoted by wtp53 upon metabolic stress is often mediated by the induction of cell cycle arrest and metabolic reprogramming genes including CDKN1A, GADD45A, GLS2 and TIGAR11,16,17. Therefore, we asked whether mutp53 contributes to the induction of these genes upon glutamine deprivation. Consistent with previous investigations, we found p53 was phosphorylated on Serine 15, a critical site for p53 activation, upon glutamine deprivation in EB3 cells with wild type p53 (Figure 4a)13. Moreover, mutp53 in CA46 cells was also phosphorylated upon glutamine deprivation (Figure 4a). Consistent with the phosphorylation, we found that p53-targeted pro-survival genes were significantly induced in CA46 cells upon glutamine deprivation (Figure 4b). Interestingly, the induction of these genes was more robust in CA46 cells harboring mutp53 than EB3 cells with wtp53 (Figure 4b). Importantly, we found that knockdown of p53 in both wtp53 and mutp53 cells dramatically inhibited the induction of the survival genes upon glutamine deprivation, demonstrating that, similar to wtp53, mutp53 contributes to the upregulation of the p53 target genes (Figure 4c and 4d). To further confirm that mutp53 promotes the induction of these p53-target genes, we evaluated the effect of ectopically expressed mutp53 on gene expression upon glutamine deprivation. Consistent with previous investigations, expression of CDKN1A, GLS2, GADD45A and TIGAR are significantly higher in wtp53 expressing cells compared with p53 deleted cells (Figure 4e and 4f). Strikingly, we found that expression of R248Q or R273H mutp53 in HCT116 cells robustly induced CDKN1A, GLS2, GADD45A and TIGAR expression upon glutamine starvation compared with p53 deleted cells or wtp53 expressing cells (Figure 4f). Conversely, no significant changes were found in the expression of pro-apoptotic gene, BAX (Figure 4f). Together, these results suggest that mutp53 not only retains, but also exaggerates the transactivation activity of the wtp53 protein toward pro-survival genes to promote cell survival in response to glutamine deprivation.