Prey diversity as a driver of resource partitioning between river ‐ dwelling fish species
ABSTRACT
---
Although food resource partitioning among sympatric species has often been explored in riverine systems, the potential influence of prey diversity on resource partitioning is little known. Using empirical data, we modeled food resource partitioning (assessed as dietary overlap) of coexisting juvenile Atlantic salmon (Salmo salar) and alpine bullhead (Cottus poecilopus). Explanatory variables incorporated into the model were fish abundance, benthic prey diversity and abundance, and several dietary metrics to give a total of seventeen potential explanatory variables. First, a forward stepwise procedure based on the Akaike information criterion was used to select explanatory variables with significant effects on food resource partitioning. Then, linear mixed‐effect models were constructed using the selected explanatory variables and with sampling site as a random factor. Food resource partitioning between salmon and bullhead increased significantly with increasing prey diversity, and the variation in food resource partitioning was best described by the model that included prey diversity as the only explanatory variable. This study provides empirical support for the notion that prey diversity is a key driver of resource partitioning among competing species.
No MeSH data available.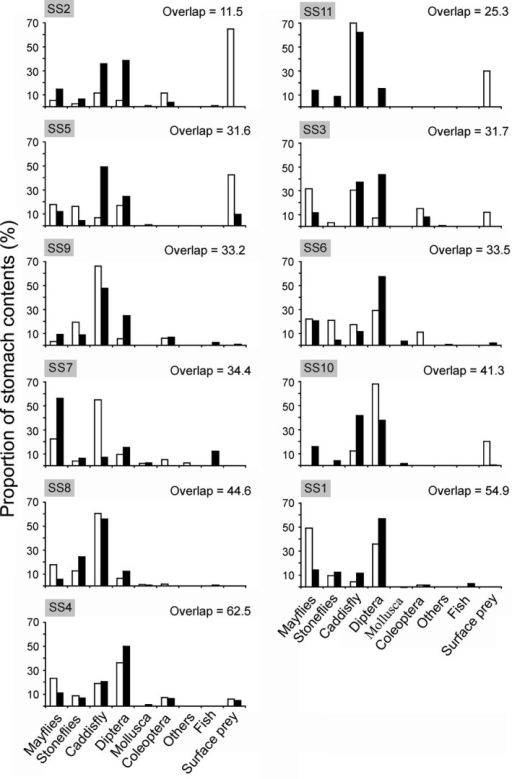 © Copyright Policy - creativeCommonsBy
License
getmorefigures.php?uid=PMC5383502&req=5
Mentions: The stomachs were opened, and the percentage of total fullness was visually determined, ranging from empty (0%) to full (100%) (see subjective methods in Hyslop, 1980). Each prey item was then identified to the same taxonomic level as for the benthic invertebrate samples. The relative contribution of each prey to the total stomach fullness was estimated according to Amundsen, Gabler, and Staldvik (1996). That is, the sum of all prey categories of a stomach meets the visually determined total fullness. In mathematical terms, the contribution of each prey to the diet is described as percent prey abundance (Ai):(2)Ai=100∑i=1nSi∑i=1nSt−1where Si is stomach fullness of prey type i, St is the total fullness of all prey categories, and n is the number of fish with prey i in the stomach. For the graphical representation, prey typically caught at the water surface including biting midges (Culicoides spp.), aerial stages of aquatic insects, spiders, and unidentified terrestrial insects were combined and designated as "surface prey." Similarly, the aquatic taxa were grouped into seven prey categories (Ephemeroptera, Plecoptera, Trichoptera, Diptera, Mollusca, Coleoptera, and others) for the plotting of the diet graphs (Figure 2).