Prey diversity as a driver of resource partitioning between river ‐ dwelling fish species
ABSTRACT
---
Although food resource partitioning among sympatric species has often been explored in riverine systems, the potential influence of prey diversity on resource partitioning is little known. Using empirical data, we modeled food resource partitioning (assessed as dietary overlap) of coexisting juvenile Atlantic salmon (Salmo salar) and alpine bullhead (Cottus poecilopus). Explanatory variables incorporated into the model were fish abundance, benthic prey diversity and abundance, and several dietary metrics to give a total of seventeen potential explanatory variables. First, a forward stepwise procedure based on the Akaike information criterion was used to select explanatory variables with significant effects on food resource partitioning. Then, linear mixed‐effect models were constructed using the selected explanatory variables and with sampling site as a random factor. Food resource partitioning between salmon and bullhead increased significantly with increasing prey diversity, and the variation in food resource partitioning was best described by the model that included prey diversity as the only explanatory variable. This study provides empirical support for the notion that prey diversity is a key driver of resource partitioning among competing species.
No MeSH data available.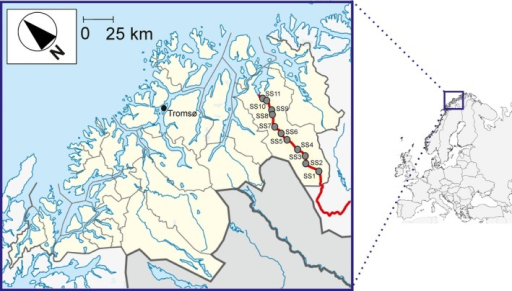 © Copyright Policy - creativeCommonsBy
License
getmorefigures.php?uid=PMC5383502&req=5
Mentions: The study was carried out in River Reisa (Figure 1), a subarctic, oligotrophic river in northern Norway (latitude 69°N). The river, approximately 140 km long and around 40 m wide along the studied sections, drains a catchment area of 2,516 km². The river does not have any significant flow regulation structure, and the mean annual discharge is 34 m³/s with the water flow typically peaking at 200–250 m³/s in late June (Gabler & Amundsen, 1999). The Reisa National Park is located in the headwater of the Reisa basin, and the park and surrounding areas provide grazing for semidomesticated reindeer. The Reisa basin includes a mixture of grass paddocks and forest [birch (Betula pubescens Ehrh.) and scattered pine (Pinus sylvestris L.)], with small rural areas interspersed in the lower part. Thus, agriculture, stockbreeding, and domestic sewage effluents are the primary but modest human impacts on the catchment. The climate is typically subarctic with long, dark, and cold winters, and the river is usually ice‐covered from November until April. Geologically, the study basin is characterized by an accumulation of granite and gneiss, and boulders, cobble, and gravel constitute the main substrates of the river bottom. The riparian vegetation is chiefly composed by deciduous woodland (birch) and pine forests. No information is available about drift patterns or magnitude of terrestrial subsidies into the River Reisa. It should be noted, however, that the contribution of terrestrial insects to the drift in Norwegian subarctic rivers may be very noticeable from June to October (Johansen, Elliott, & Klemetsen, 2000). In fact, terrestrial insects are the largest group in the drift of another northern Norwegian river (River Saeterelva, latitude 68°N) in August, but with very low densities in May (Johansen et al., 2000).