Effects of genetically modified maize events expressing Cry34Ab1, Cry35Ab1, Cry1F, and CP 4 EPSPS proteins on arthropod complex food webs
ABSTRACT
---
Four genetically modified (GM) maize (Zea mays L.) hybrids (coleopteran resistant, coleopteran and lepidopteran resistant, lepidopteran resistant and herbicide tolerant, coleopteran and herbicide tolerant) and its non‐GM control maize stands were tested to compare the functional diversity of arthropods and to determine whether genetic modifications alter the structure of arthropods food webs. A total number of 399,239 arthropod individuals were used for analyses. The trophic groups' number and the links between them indicated that neither the higher magnitude of Bt toxins (included resistance against insect, and against both insects and glyphosate) nor the extra glyphosate treatment changed the structure of food webs. However, differences in the average trophic links/trophic groups were detected between GM and non‐GM food webs for herbivore groups and plants. Also, differences in characteristic path lengths between GM and non‐GM food webs for herbivores were observed. Food webs parameterized based on 2‐year in‐field assessments, and their properties can be considered a useful and simple tool to evaluate the effects of Bt toxins on non‐target organisms.
No MeSH data available.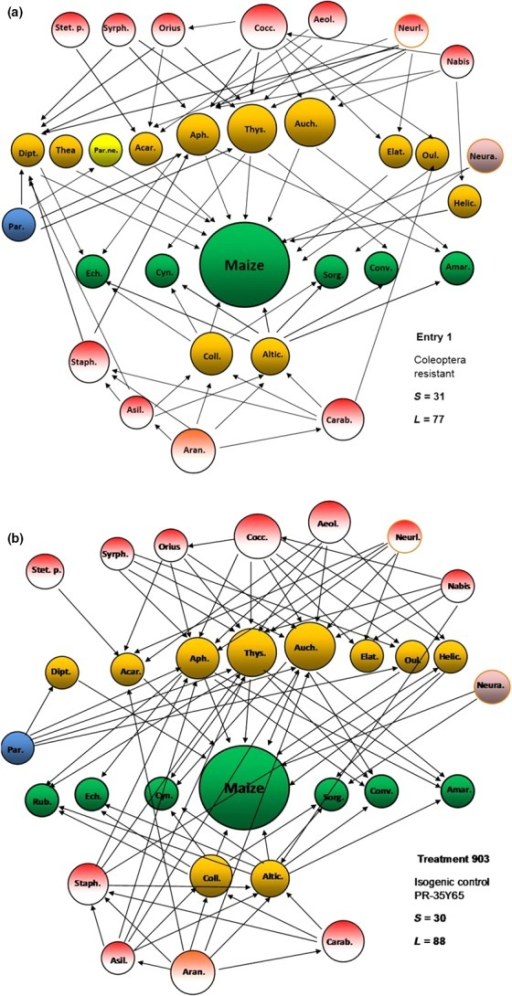 © Copyright Policy - creativeCommonsBy
License
getmorefigures.php?uid=PMC5383485&req=5
Mentions: Before food webs were constructed, predator–prey interactions were searched in scientific literature and prey preferences checked (Supporting Information, Table S1). We collated trophic interactions among each species within trophic groups (or the next highest level of resolution available, usually genus), from 62 different scientific literary sources (Supporting Information, Table S1). The taxonomy of every resource and consumer has been standardized through the Global Names Resolver (http://resolver.globalnames.biodinfo.org/) using the Global Biodiversity Information Facility dataset (Gray et al., 2014). The food web of each GM treatment and its controls were constructed using CoSBiLab software (Gagic, Tscharntke, & Dormann, 2011; Jordán et al., 2012) based on trophic groups abundance and trophic interactions among nodes. The food web constructions include below level maize and all dominant weed species followed by herbivore groups, predators and parasitoids present in both 2 years of assessment (Figure 1a,b). To test how the generated food webs compared to their empirical counterparts, the following network metrics were calculated (Christian & Luczkovich, 1999; Goldwasser & Roughgarden, 1993; Martinez, Hawkins, Dawah, & Feifarek, 1999): Average trophic link/trophic groups (B = L/S)—This considers the number of trophic groups (S) and number of links (L) between them (Albert & Barabási, 2002; Barabási & Albert, 1999). Characteristic path length (D = 2/N(N − 1)∑dij)—the shortest path length between two trophic groups averaged over all pairs of groups (Albert & Barabási, 2002; Antoniou & Tsompa, 2008; Barabási & Albert, 1999; Dunne et al., 2002; Jordán et al., 2012). The average trophic link/trophic group (B) and characteristic path length values (D) for each trophic level were considered in statistics as the mean of four replicate plots of each treatment. A paired t test was used to compare B and D values for each trophic level in the GM treatments to the average of the values in the non‐GM (control) treatments.