The shift from plant – plant facilitation to competition under severe water deficit is spatially explicit
ABSTRACT
---
The stress‐gradient hypothesis predicts a higher frequency of facilitative interactions as resource limitation increases. Under severe resource limitation, it has been suggested that facilitation may revert to competition, and identifying the presence as well as determining the magnitude of this shift is important for predicting the effect of climate change on biodiversity and plant community dynamics. In this study, we perform a meta‐analysis to compare temporal differences of species diversity and productivity under a nurse plant (Retama sphaerocarpa) with varying annual rainfall quantity to test the effect of water limitation on facilitation. Furthermore, we assess spatial differences in the herbaceous community under nurse plants in situ during a year with below‐average rainfall. We found evidence that severe rainfall deficit reduced species diversity and plant productivity under nurse plants relative to open areas. Our results indicate that the switch from facilitation to competition in response to rainfall quantity is nonlinear. The magnitude of this switch depended on the aspect around the nurse plant. Hotter south aspects under nurse plants resulted in negative effects on beneficiary species, while the north aspect still showed facilitation. Combined, these results emphasize the importance of spatial heterogeneity under nurse plants for mediating species loss under reduced precipitation, as predicted by future climate change scenarios. However, the decreased water availability expected under climate change will likely reduce overall facilitation and limit the role of nurse plants as refugia, amplifying biodiversity loss.
No MeSH data available.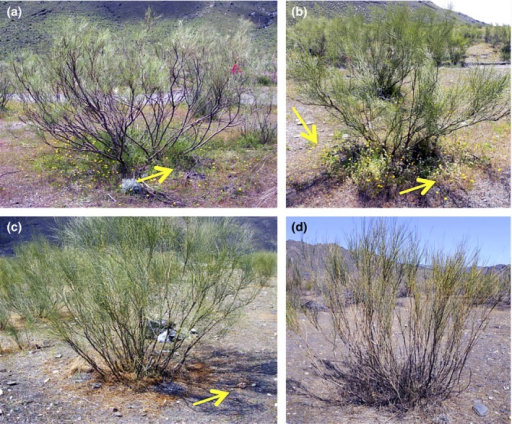 © Copyright Policy - creativeCommonsBy
License
getmorefigures.php?uid=PMC5383484&req=5
Mentions: Fieldwork was conducted in a Retama sphaerocarpa shrubland located in Rambla del Saltador, Almería Province, SE Spain (37°08′N, 2°22′W) at 630 m elevation. Climatic conditions are semiarid with a dry summer season between June and September. Mean annual rainfall is ~250 mm and annual mean temperature is 16°C (Pugnaire & Lázaro, 2000). The soil at the valley bottom is a sandy loam of alluvial origin with poor water‐holding capacity and low soil organic matter and nutrient concentrations (Pugnaire et al., 1996). The sparse vegetation at the valley bottom is dominated by R. sphaerocarpa, a leguminous shrub with very deep roots known to be involved in the redistribution of water in the soil (Prieto, Kikvidze, & Pugnaire, 2010). These shrubs are distributed homogenously throughout the area and surrounded by large open areas (Figure 1). Both the shrub understory and the surrounding open areas are mainly colonized by annual grasses and herbs, but the vegetation is generally denser and more species‐rich below shrubs than in open areas (Pugnaire et al., 1996). This generally facilitative effect of the shrub is attributed to higher water availability (Prieto et al., 2010; Pugnaire, Armas, & Valladares, 2004) as well as higher soil organic matter and nutrient concentration (Pugnaire et al., 1996, 2004) along with ameliorated environmental conditions such as lower air and soil temperatures (Moro, Pugnaire, Haase, & Puigdefábregas, 1997; Pugnaire et al., 2004).