The impact of climate change on the distribution of two threatened Dipterocarp trees
ABSTRACT
---
Two ecologically and economically important, and threatened Dipterocarp trees Sal (Shorea robusta) and Garjan (Dipterocarpus turbinatus) form mono‐specific canopies in dry deciduous, moist deciduous, evergreen, and semievergreen forests across South Asia and continental parts of Southeast Asia. They provide valuable timber and play an important role in the economy of many Asian countries. However, both Dipterocarp trees are threatened by continuing forest clearing, habitat alteration, and global climate change. While climatic regimes in the Asian tropics are changing, research on climate change‐driven shifts in the distribution of tropical Asian trees is limited. We applied a bioclimatic modeling approach to these two Dipterocarp trees Sal and Garjan. We used presence‐only records for the tree species, five bioclimatic variables, and selected two climatic scenarios (RCP4.5: an optimistic scenario and RCP8.5: a pessimistic scenario) and three global climate models (GCMs) to encompass the full range of variation in the models. We modeled climate space suitability for both species, projected to 2070, using a climate envelope modeling tool "MaxEnt" (the maximum entropy algorithm). Annual precipitation was the key bioclimatic variable in all GCMs for explaining the current and future distributions of Sal and Garjan (Sal: 49.97 ± 1.33; Garjan: 37.63 ± 1.19). Our models predict that suitable climate space for Sal will decline by 24% and 34% (the mean of the three GCMs) by 2070 under RCP4.5 and RCP8.5, respectively. In contrast, the consequences of imminent climate change appear less severe for Garjan, with a decline of 17% and 27% under RCP4.5 and RCP8.5, respectively. The findings of this study can be used to set conservation guidelines for Sal and Garjan by identifying vulnerable habitats in the region. In addition, the natural habitats of Sal and Garjan can be categorized as low to high risk under changing climates where artificial regeneration should be undertaken for forest restoration.
No MeSH data available.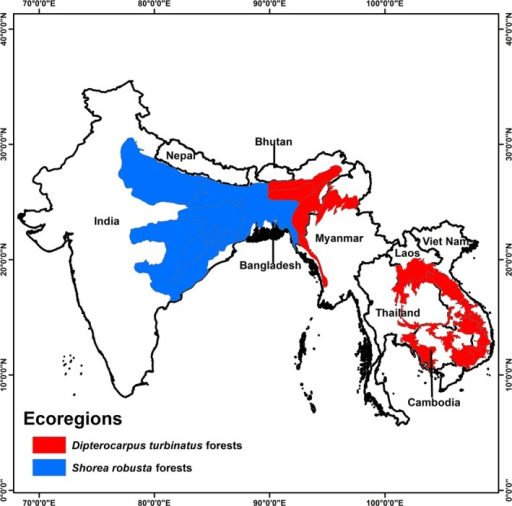 © Copyright Policy - creativeCommonsBy
License
getmorefigures.php?uid=PMC5383467&req=5
Mentions: We combined the presence'Äźonly records of Sal and Garjan from a variety of sources including field survey, online database Global Biodiversity Information Facility (http://www.gbif.org/), and literature records. To reduce potential errors in species locations, records were 'Äúcleaned,'ÄĚ which included the careful review of literature for each species (Appanah & Turnbull, 1998; Champion & Seth, 1968; Das & Alam, 2001) and the removal of duplicate locations. Finally, we selected 787 and 533 records for Sal and Garjan, respectively, to model their distributions. Sal dominates tropical moist and dry deciduous forests, and Garjan dominates or codominates evergreen, semievergreen, and deciduous forest ecosystems in tropical Asia (Appanah & Turnbull, 1998; Champion & Seth, 1968; Gautam & Devoe, 2006; Huda, Uddin, Haque, Mridha, & Bhuiyan, 2006). We clipped the ecoregions for South and Southeast Asia from the K√∂ppen'ÄďGeiger climate classification of the world (Peel, Finlayson, & McMahon, 2007) and combined them with the distributions of the two Dipterocarps to show their ecoregions in tropical Asia (Figure¬†1 and Table S1).