Differential CLE peptide perception by plant receptors implicated from structural and functional analyses of TDIF-TDR interactions
ABSTRACT
---
Tracheary Element Differentiation Inhibitory Factor (TDIF) belongs to the family of post-translationally modified CLE (CLAVATA3/embryo surrounding region (ESR)-related) peptide hormones that control root growth and define the delicate balance between stem cell proliferation and differentiation in SAM (shoot apical meristem) or RAM (root apical meristem). In Arabidopsis, Tracheary Element Differentiation Inhibitory Factor Receptor (TDR) and its ligand TDIF signaling pathway is involved in the regulation of procambial cell proliferation and inhibiting its differentiation into xylem cells. Here we present the crystal structures of the extracellular domains (ECD) of TDR alone and in complex with its ligand TDIF resolved at 2.65 Ǻ and 2.75 Ǻ respectively. These structures provide insights about the ligand perception and specific interactions between the CLE peptides and their cognate receptors. Our in vitro biochemical studies indicate that the interactions between the ligands and the receptors at the C-terminal anchoring site provide conserved binding. While the binding interactions occurring at the N-terminal anchoring site dictate differential binding specificities between different ligands and receptors. Our studies will open different unknown avenues of TDR-TDIF signaling pathways that will enhance our knowledge in this field highlighting the receptor ligand interaction, receptor activation, signaling network, modes of action and will serve as a structure function relationship model between the ligand and the receptor for various similar leucine-rich repeat receptor-like kinases (LRR-RLKs).
No MeSH data available.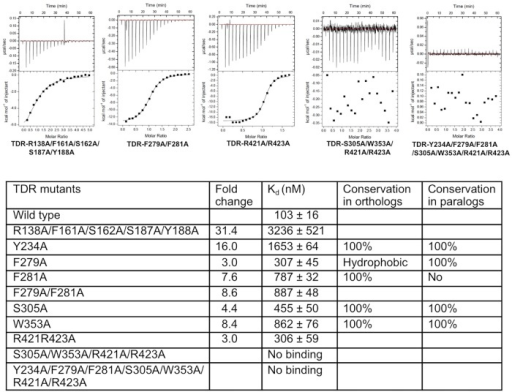 © Copyright Policy
License
getmorefigures.php?uid=PMC5383425&req=5
Mentions: To assess the energy contributions of the side chains of each interacting residue on TDR to TDIF binding, we made alanine substitution mutants of TDR and measured TDR mutant/TDIF binding affinity by isothermal titration calorimetric (ITC) (Fig 4 and S11 Fig). In addition, we observed a specific electrostatic interaction between R138 of TDR and E2 of the TDIF peptide. Thus, to test whether abolishing the interaction would influence binding energy, we made an R138E mutant and found that by reversing the charge does not result into significant difference in binding energy. (Fig 4 and S11 Fig). We observed that R138, F161, S162, G186, S187, and Y188 of TDR interact with TDIF N-terminal anchoring site (Fig 2B). However, a single-site mutation of each of these residues (R138A, S162A, G186A, S187A, Y188A) has either no adverse effect or mild effect (F161A) on TDIF binding. The F161A and S162A mutants have relatively stronger effects on TDR binding in a previous GST pull-down assay [28], which again indicates that different assay systems could cause some discrepancy. When all five residues are replaced by alanine, the mutant TDR has a cumulative effect, with 31.4-fold decrease in its binding affinity to TDIF. R138 can be replaced by a histidine in TDR orthologs, but the other four residues are highly conserved (S8 Fig). TDR-R138 forms an electrostatic interaction with TDIF-E2, and mutating E2 has only a mild effect on TDIF-TDR binding. This shows that TDR-R138 is not critical for TDIF recognition. In contrast to the high conservation of these five residues in TDR orthologs, most of them are variable in TDR paralogs, such as CLV1 and BAM1, 2 and 3 (S9 Fig). This suggests that the CLE peptides N-terminal anchoring site-binding surface on plant LRR-RLKs are diversified to meet differential CLE binding specificity of each receptor.