Infection with the Lyme disease pathogen suppresses innate immunity in mice with diet-induced obesity
ABSTRACT
---
Obesity is a major global public health concern. Immune responses implicated in obesity also control certain infections. We investigated the effects of high-fat diet-induced obesity (DIO) on infection with the Lyme disease bacterium Borrelia burgdorferi in mice. DIO was associated with systemic suppression of neutrophil- and macrophage-based innate immune responses. These included bacterial uptake and cytokine production, and systemic, progressive impairment of bacterial clearance, and increased carditis severity. B. burgdorferi-infected mice fed normal diet also gained weight at the same rate as uninfected mice fed high-fat diet, toll-like receptor 4 deficiency rescued bacterial clearance defects, which greater in female than male mice, and killing of an unrelated bacterium (Escherichia coli) by bone marrow-derived macrophages from obese, B. burgdorferi-infected mice was also affected. Importantly, innate immune suppression increased with infection duration and depended on cooperative and synergistic interactions between DIO and B. burgdorferi infection. Thus, obesity and B. burgdorferi infection cooperatively and progressively suppressed innate immunity in mice.
No MeSH data available.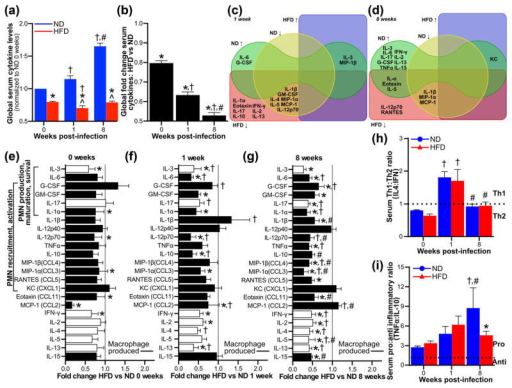 © Copyright Policy - open-access
License
getmorefigures.php?uid=PMC5383418&req=5
Mentions: To determine if DIO also disrupted systemic cytokine responses to B. burgdorferi infection, we compared levels of 23 cytokines and chemokines in sera from early and late infection (1 and 8 weeks) to baseline values for mock-infected ND controls at Day 0. Global levels of the 23 measured cytokines increased progressively over the course of infection in ND but not HFD animals (Figure 4a–b), indicating that normal systemic cytokine responses to infection were blunted in DIO. As reported previously (Isogai et al., 1996; Benhnia et al., 2005), interleukin (IL)-1α, IL-6, tumor necrosis factor (TNF)-α, and interferon (IFN)-γ levels were significantly upregulated upon infection of ND mice, as were many others (Figure 4c–d). Unexpectedly, multiple cytokines were also downregulated in this group compared to baseline, including IL-1β (Figure 4c–d). By contrast, most cytokines upregulated in infected ND mice were not significantly upregulated in HFD animals following infection (Figure 4c–d), and the abundance of most cytokines declined significantly and progressively over the course of infection in HFD compared to normal groups (Figure 4e–g). Th1:Th2 cytokine ratios, estimated by comparing IL-4:IFN-γ abundance in the serum of each mouse, were similar in ND and HFD groups, suggesting that skewing of Th1/Th2 responses was not the major determinant of attenuated cytokine production in infected HFD mice (Figure 4h). However, TNF-α:IL-10 ratios in individual serum samples were significantly lower in HFD compared to ND mice at 8 weeks post-infection (Figure 4i), primarily due to reduced levels of TNF-α, and not increased IL-10 abundance (Figures 4g and S4). Thus, DIO was associated with widespread attenuation and/or absence of normal systemic cytokine responses to B. burgdorferi infection.