Infection with the Lyme disease pathogen suppresses innate immunity in mice with diet-induced obesity
ABSTRACT
---
Obesity is a major global public health concern. Immune responses implicated in obesity also control certain infections. We investigated the effects of high-fat diet-induced obesity (DIO) on infection with the Lyme disease bacterium Borrelia burgdorferi in mice. DIO was associated with systemic suppression of neutrophil- and macrophage-based innate immune responses. These included bacterial uptake and cytokine production, and systemic, progressive impairment of bacterial clearance, and increased carditis severity. B. burgdorferi-infected mice fed normal diet also gained weight at the same rate as uninfected mice fed high-fat diet, toll-like receptor 4 deficiency rescued bacterial clearance defects, which greater in female than male mice, and killing of an unrelated bacterium (Escherichia coli) by bone marrow-derived macrophages from obese, B. burgdorferi-infected mice was also affected. Importantly, innate immune suppression increased with infection duration and depended on cooperative and synergistic interactions between DIO and B. burgdorferi infection. Thus, obesity and B. burgdorferi infection cooperatively and progressively suppressed innate immunity in mice.
No MeSH data available.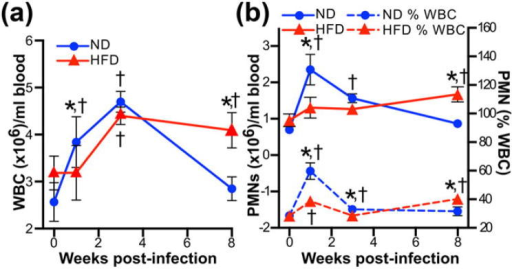 © Copyright Policy - open-access
License
getmorefigures.php?uid=PMC5383418&req=5
Mentions: Because DIO affected B. burgdorferi clearance in multiple tissues and DIO alters innate immune responses (Jin et al., 2013), we next asked whether systemic responses were altered in HFD animals, by measuring absolute concentrations of total white blood cells (WBCs), neutrophils (PMNs), and other WBC types in whole blood. We recently found that obesity-independent hyperglycemia impairs innate immune responses to male C3H/HeN mice infected with 1 × 104 of B. burgdorferi strain GCB726 (Javid et al., 2016). Therefore, experiments investigating the effects of DIO on innate immune responses to B. burgdorferi infection were also performed with male C3H/HeN mice infected with 1 × 104 GCB726, to facilitate comparison of the effects of obesity and hyperglycemia on innate immune responses. In ND mice, WBC numbers increased significantly at 1 week post-infection compared to baseline (0 weeks), peaked at the acute phase of infection (3 weeks), and subsequently declined, consistent with a systemic response to B. burgdorferi infection (Figure 3a). By contrast, in DIO, systemic WBC responses to infection were delayed and remained significantly elevated late in infection compared to baseline and ND infected mice. Therefore, both activation and resolution of systemic inflammation in response to B. burgdorferi were delayed. The types of circulating WBCs associated with systemic responses to B. burgdorferi infection in DIO also differed markedly. The most prominently affected cell type was PMNs, which were especially abundant at 1 week post-inoculation in ND animals, but declined to baseline levels by 8 weeks post-infection (Figure 3b). In obese mice, PMN counts were not significantly elevated above baseline until 8 weeks post-infection and even at this time point did not reach the same numbers as observed during the peak systemic PMN response in ND (Figure 3b). Instead, systemic cellular responses to B. burgdorferi infection in DIO were skewed toward eosinophilia and monocytosis (Figure S3b–c). Thus, DIO was associated with delayed and attenuated increases in systemic WBC and neutrophil numbers early in B. burgdorferi infection and blunted neutrophilia late in infection, accompanied by eosinophilia and monocytosis.