DENV up-regulates the HMG-CoA reductase activity through the impairment of AMPK phosphorylation: A potential antiviral target
ABSTRACT
---
Dengue is the most common mosquito-borne viral disease in humans. Changes of lipid-related metabolites in endoplasmic reticulum of dengue virus (DENV) infected cells have been associated with replicative complexes formation. Previously, we reported that DENV infection inhibits HMGCR phosphorylation generating a cholesterol-enriched cellular environment in order to favor viral replication. In this work, using enzymatic assays, ELISA, and WB we found a significant higher activity of HMGCR in DENV infected cells, associated with the inactivation of AMPK. AMPK activation by metformin declined the HMGCR activity suggesting that AMPK inactivation mediates the enhanced activity of HMGCR. A reduction on AMPK phosphorylation activity was observed in DENV infected cells at 12 and 24 hpi. HMGCR and cholesterol co-localized with viral proteins NS3, NS4A and E, suggesting a role for HMGCR and AMPK activity in the formation of DENV replicative complexes. Furthermore, metformin and lovastatin (HMGCR inhibitor) altered this co-localization as well as replicative complexes formation supporting that active HMGCR is required for replicative complexes formation. In agreement, metformin prompted a significant dose-dependent antiviral effect in DENV infected cells, while compound C (AMPK inhibitor) augmented the viral genome copies and the percentage of infected cells. The PP2A activity, the main modulating phosphatase of HMGCR, was not affected by DENV infection. These data demonstrate that the elevated activity of HMGCR observed in DENV infected cells is mediated through AMPK inhibition and not by increase in PP2A activity. Interestingly, the inhibition of this phosphatase showed an antiviral effect in an HMGCR-independent manner. These results suggest that DENV infection increases HMGCR activity through AMPK inactivation leading to higher cholesterol levels in endoplasmic reticulum necessary for replicative complexes formation. This work provides new information about the mechanisms involved in host lipid metabolism during DENV replicative cycle and identifies new potential antiviral targets for DENV replication.
No MeSH data available.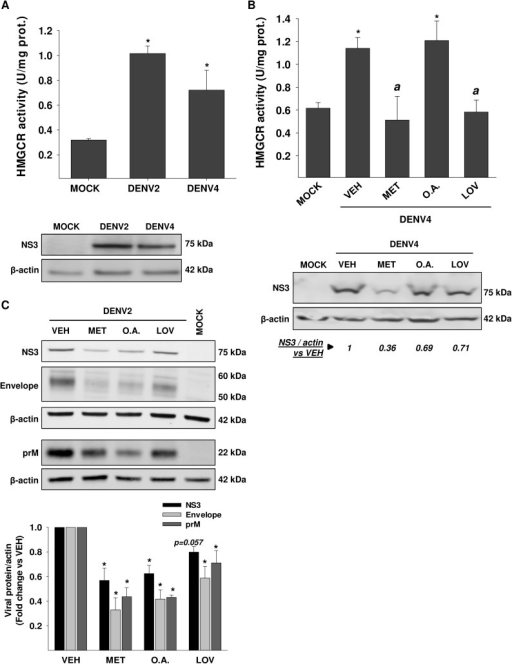 © Copyright Policy
License
getmorefigures.php?uid=PMC5383345&req=5
Mentions: Next, we evaluated whether the increase of HMGCR activity is modulated through the AMPK inhibition induced by DENV. First, using an enzymatic assay, we confirmed that DENV 2/4 infection increases the HMGCR activity at 24 hpi (DENV2: 1.02 ± 0.0625 U/mg protein, and DENV4: 0.72 ± 0.16 U/mg protein) respect to mock infected cells (0.32 ± 0.01 U/mg protein) (Fig 2A). NS3 was detected as evidence of infection (Fig 2A, lower panel). Then, the increase of HMGCR activity was evaluated in DENV infected cells (24 h) treated with DMSO 0.5% (VEH, vehicle), metformin (MET, AMPK activator), and lovastatin (LOV, HMGCR inhibitor) as a positive control. DENV infection increased the HMGCR activity in VEH-treated cells (1.14±0.09 U/mg protein) compared to mock infected cells (0.62±0.05 U/mg protein) (Fig 2B). This activity was inhibited by metformin (0.51±0.21 U/mg protein) at the level observed in mock infected cells (Fig 2B). Similar inhibition was observed with the competitive inhibitor of HMGCR lovastatin (0.58±0.11 U/mg protein) (Fig 2B). These results suggest that the increased HMGCR activity triggered by DENV infection is mediated by AMPK. While AMPK is involved in the phosphorylation of HMGCR, the phosphatase PP2A activates HMGCR directly through its dephosphorylation [39]. For this reason, DENV-infected cells were treated with okadaic acid (O.A), a PP2A inhibitor, at a concentration that decreased PP2A activity (10 nM) (shown below); however O.A. did not have any effect on the HMGCR activity (1.21 ± 0.17 U/mg protein) respect to DENV VEH-treated cells, suggesting that PP2A is not involved in the up-regulation of HMGCR activity induced by DENV. In all conditions, the levels of NS3 viral protein were analyzed by western blot as infection evidence. A highest reduction in the levels of NS3 was observed with MET treatment (Fig 2B, lower panel). This effect was reproducible in DENV2 infected cells treated with metformin, okadaic acid and lovastatin (Fig 2C). A decrease in levels of non-structural protein NS3, and structural proteins E and prM was observed (Fig 2C), suggesting that pharmacological activation of AMPK by MET and OA treatment could have an antiviral effect. As expected, we observed a reduction of viral proteins induced by lovastatin (Fig 2C). Together, our results show that AMPK is involved in the up-regulation of HMGCR activity by DENV. Furthermore, MET reduced the amount of viral proteins more than lovastatin, suggesting that AMPK activation could alter important pathways for DENV replication in addition to the inhibition of the HMGCR activity.