Generation and characterization of epoxide hydrolase 3 ( EPHX3 )-deficient mice
ABSTRACT
---
Cytochrome P450 (CYP) epoxygenases metabolize arachidonic acid into epoxyeicosatrienoic acids (EETs), which play an important role in blood pressure regulation, protection against ischemia-reperfusion injury, angiogenesis, and inflammation. Epoxide hydrolases metabolize EETs to their corresponding diols (dihydroxyeicosatrienoic acids; DHETs) which are biologically less active. Microsomal epoxide hydrolase (EPHX1, mEH) and soluble epoxide hydrolase (EPHX2, sEH) were identified >30 years ago and are capable of hydrolyzing EETs to DHETs. A novel epoxide hydrolase, EPHX3, was recently identified by sequence homology and also exhibits epoxide hydrolase activity in vitro with a substrate preference for 9,10-epoxyoctadecamonoenoic acid (EpOME) and 11,12-EET. EPHX3 is highly expressed in the skin, lung, stomach, esophagus, and tongue; however, its endogenous function is unknown. Therefore, we investigated the impact of genetic disruption of Ephx3 on fatty acid epoxide hydrolysis and EET-related physiology in mice. Ephx3-/- mice were generated by excising the promoter and first four exons of the Ephx3 gene using Cre-LoxP methodology. LC-MS/MS analysis of Ephx3-/- heart, lung, and skin lysates revealed no differences in endogenous epoxide:diol ratios compared to wild type (WT). Ephx3-/- mice also exhibited no change in plasma levels of fatty acid epoxides and diols relative to WT. Incubations of cytosolic and microsomal fractions prepared from Ephx3-/- and WT stomach, lung, and skin with synthetic 8,9-EET, 11,12-EET, and 9,10-EpOME revealed no significant differences in rates of fatty acid diol formation between the genotypes. Ephx3-/- hearts had similar functional recovery compared to WT hearts following ischemia/reperfusion injury. Following intranasal lipopolysaccharide (LPS) exposure, Ephx3-/- mice were not different from WT in terms of lung histology, bronchoalveolar lavage fluid cell counts, or fatty acid epoxide and diol levels. We conclude that genetic disruption of Ephx3 does not result in an overt phenotype and has no significant effects on the metabolism of EETs or EpOMEs in vivo.
No MeSH data available.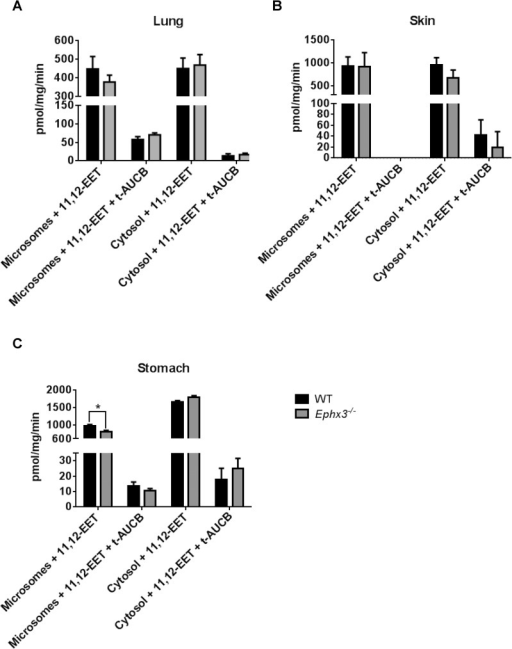 © Copyright Policy
License
getmorefigures.php?uid=PMC5383309&req=5
Mentions: Although no changes were observed in endogenous epoxide:diol ratios between genotypes; we investigated the potential role of EPHX3 in fatty acid epoxide hydrolysis by incubating tissue lysates with synthetic oxylipid substrates. Lung, skin, and stomach lysates were incubated with exogenous 8,9-EET, 11,12-EET, or 9,10-EpOME for 5 minutes. LC-MS/MS analysis showed that formation of 8,9-DHET, 11,12-DHET, and 9,10-EpOME was similar in lysates from Ephx3-/- and WT mice (Fig 6A–6C). We also isolated microsomal and cytosolic fractions from lung, skin, and stomach samples and incubated with synthetic 11,12-EET. The 11,12-DHET formation rates were unchanged in both cytosolic and microsomal fractions from lung (Fig 7A), skin (Fig 7B), and stomach (Fig 7C). Co-incubation with the EPHX2 inhibitor t-AUCB, which has no inhibitory effect on recombinant EPHX3 in vitro [12], resulted in a significant decrease in diol formation; however, this decrease was of similar magnitude in cytosol and microsomal fractions from both genotypes (Fig 7A–7C).