Matrix-assisted laser desorption/ionization time-of-flight mass spectrometry for the identification of Burkholderia pseudomallei from Asia and Australia and differentiation between Burkholderia species
ABSTRACT
---
Matrix-assisted laser desorption/ionization time-of-flight mass spectrometry (MALDI-TOF MS) is increasingly used for rapid bacterial identification. Studies of Burkholderia pseudomallei identification have involved small isolate numbers drawn from a restricted geographic region. There is a need to expand the reference database and evaluate B. pseudomallei from a wider geographic distribution that more fully captures the extensive genetic diversity of this species. Here, we describe the evaluation of over 650 isolates. Main spectral profiles (MSP) for 26 isolates of B. pseudomallei (N = 5) and other Burkholderia species (N = 21) were added to the Biotyper database. MALDI-TOF MS was then performed on 581 B. pseudomallei, 19 B. mallei, 6 B. thailandensis and 23 isolates representing a range of other bacterial species. B. pseudomallei originated from northeast and east Thailand (N = 524), Laos (N = 12), Cambodia (N = 14), Hong Kong (N = 4) and Australia (N = 27). All 581 B. pseudomallei were correctly identified, with 100% sensitivity and specificity. Accurate identification required a minimum inoculum of 5 x 107 CFU/ml, and identification could be performed on spiked blood cultures after 24 hours of incubation. Comparison between a dendrogram constructed from MALDI-TOF MS main spectrum profiles and a phylogenetic tree based on recA gene sequencing demonstrated that MALDI-TOF MS distinguished between B. pseudomallei and B. mallei, while the recA tree did not. MALDI-TOF MS is an accurate method for the identification of B. pseudomallei, and discriminates between this and other related Burkholderia species.
No MeSH data available.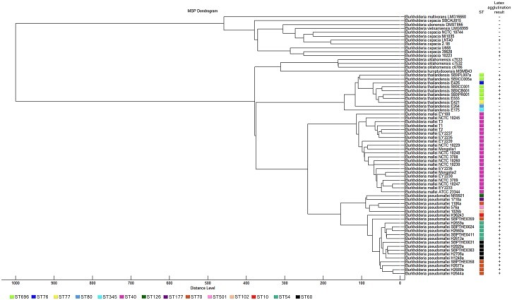 © Copyright Policy
License
getmorefigures.php?uid=PMC5383291&req=5
Mentions: To construct the dendrogram, Flexanalysis software (version 3.4) was used to adjust the baseline and smoothness of the spectra. Twenty spots of a single protein extract for each isolate were used to construct the main spectrum profiles (MSP) using the MALDI-Biotyper software (version 3.1). The following parameters were used: the Biotyper MSP creation standard method was used, with a maximum mass error of each single spectrum of 2000, desired mass error for the MSP of 200, desired peak frequency minimum of 25%, and maximum desired peak number for the MSP of 70. The isolates used were: 21 B. pseudomallei (NR9921, 1710a, 1106a, 576a, 1026b, K96243, SBPTHE0359, H2659A, SBPTHE0024, H2660a, SBPTHE0411, H2613a, SBPTHE0031, H2820a, SBPTHE0383, H2708a, H1248a, SBPTHE0358, H2677a, H2689b, H2644a), 21 B. mallei (EY100, NCTC 10245, T1, T2, T3, EY2233, EY2235, EY2236, EY2237, EY2238, EY2239, NCTC 10229, NCTC 10248, NCTC 3708, NCTC 10230, NCTC 10260, NCTC 3709, NCTC 10247, Mongolia1, Mongolia 2, ATCC 23344), 10 B. thailandensis (E175, E264, E421, E426, E555, SBXPL007a, SBXCC006a, SBXCC001, SBXCB001, SBXPR001), 1 B. humptydooensis MSMB43, 3 B. oklahomensis (c6786, c7532, c7533), 8 B. cepacia (NCTC 10744, MI1035, LNT40, 2.1B, U668, 39628, 10223, SBCAU015), 1 B. vietnamiensis LMG6999, 1 B. ubonensis DMST866 and 1 B. multivorans LMG16660. The basis for the choice of B. pseudomallei isolates was the inclusion of commonly used reference isolates (K96243, H2660a, H2708a, 1106a and 1026b) and a further 16 isolates each assigned to a different ST (ST696, ST76, ST77, ST80, ST345, ST40, ST126, ST177, ST70, ST501, ST102, ST10, ST54 and ST60 (Fig 1). B. thailandensis and B. thailandensis with BP-like CPS capsule were randomly selected from our freezer archive. We included all of the B. mallei (N = 21), B. humptydooensis MSMB43 (N = 1), B. oklahomensis (N = 3), B. cepacia (N = 8), B. vietnamiensis (N = 1), B. ubonensis (N = 1) and B. multivorans (N = 1) in our collection. Cluster analysis was performed based on comparison of MSP using the following setting parameters: the distance measure was set to Spearman, the linkage was set to single, and score threshold value for a single organism was set at 1000.