Increased risk of sudden sensorineural hearing loss in patients with hepatitis virus infection
ABSTRACT
---
The etiology of sudden sensorineural hearing loss (SSNHL) remains unclear. Possible causes of SSNHL include vascular diseases, viral infection, and autoimmune disorders. Therefore, we investigated whether hepatitis virus infection is correlated with the risk of SSNHL. Using data from the Taiwan Longitudinal Health Insurance Database, we conducted a retrospective matched-cohort study to compare patients diagnosed with hepatitis B or C virus (HBV/HCV) infections from January 1, 2000, to December 31, 2010, (N = 170,942) with frequency-matched controls (N = 512,826) at a ratio of 1:3 by sex, age, and index year. We followed each patient until the end of 2010 and evaluated the incidence of SSNHL. At the end of the follow-up period, 647 (0.38%, 647/170,942) patients developed SSNHL in the HBV/HCV group compared with 978 (0.19%, 978/512,826) in the control groups, with a statistical significance of P < 0.001 (using the log-rank test). The incidence rate ratio of SSNHL was 5.743-fold higher in the HBV/HCV group than in the control group (283.17 vs. 49.31 per 100,000 person-years, P < 0.001). The risk of SSNHL increased with HBV/HCV infection, and an adjusted hazard ratio of 5.103 (95% CI, 4.585–5.678) was determined using Cox proportional hazards regression. This study contributes to the awareness of the increased risk of SSNHL in HBV/HCV-infected populations. Our findings suggest that an underlying viral infection contributes to the development of SSNHL.
No MeSH data available.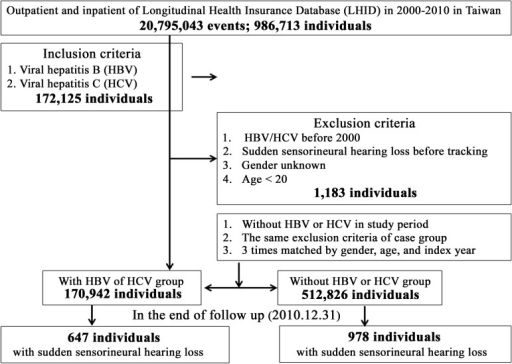 © Copyright Policy
License
getmorefigures.php?uid=PMC5383281&req=5
Mentions: Patients with HBV or HCV infections were selected from 1 January 2000 to 31 December 2010, according to the International Classification of Diseases, Version 9, Clinical Modification (ICD-9-CM) codes 070.20, 070.22, 070.30, 070.32, and V02.61 for HBV and 070.41, 070.44, 070.51, 070.54, 070.70, 070.71, and V02.62 for HCV. Patients diagnosed with SSNHL (ICD-9-CM code: 388.2) before 2000 or before the first visit for viral hepatitis were excluded. In addition, all patients aged <20 years were also excluded. A total of 683,768 participants were enrolled in this study; among these, 170,942 had HBV or HCV infection and 512,826 were controls without HBV or HCV infection who were matched by age, sex, and index year (Fig 1).