Peripheral and central immune cell reservoirs in tissues from asymptomatic cats chronically infected with feline immunodeficiency virus
ABSTRACT
---
Feline immunodeficiency virus (FIV) infection in cats results in life-long viral persistence and progressive immunopathology. We have previously described a cohort of experimentally infected cats demonstrating a progressive decline of peripheral blood CD4+ T-cell over six years in the face of apparent peripheral viral latency. More recently we reported findings from this same cohort that revealed popliteal lymph node tissue as sites for ongoing viral replication suggesting that tissue reservoirs are important in FIV immunopathogenesis during the late asymptomatic phase of infection. Results reported herein characterize important tissue reservoirs of active viral replication during the late asymptomatic phase by examining biopsied specimens of spleen, mesenteric lymph node (MLN), and intestine from FIV-infected and uninfected control cats. Peripheral blood collected coincident with harvest of tissues demonstrated severe CD4+ T-cell depletion, undetectable plasma viral gag RNA and rarely detectable peripheral blood mononuclear cell (PBMC)-associated viral RNA (vRNA) by real-time PCR. However, vRNA was detectable in all three tissue sites from three of four FIV-infected cats despite the absence of detectable vRNA in plasma. A novel in situ hybridization assay identified B cell lymphoid follicular domains as microanatomical foci of ongoing FIV replication. Additionally, we demonstrated that CD4+ leukocyte depletion in tissues, and CD4+ and CD21+ leukocytes as important cellular reservoirs of ongoing replication. These findings revealed that tissue reservoirs support foci of ongoing viral replication, in spite of highly restricted viral replication in blood. Lentiviral eradication strategies will need address tissue viral reservoirs.
No MeSH data available.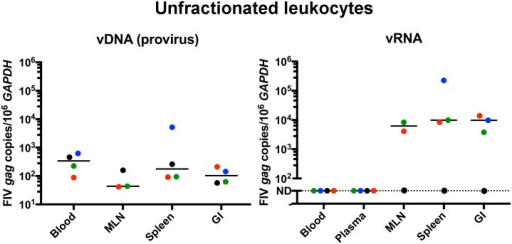 © Copyright Policy
License
getmorefigures.php?uid=PMC5383277&req=5
Mentions: Viral infection (presence or absence of provirus) and transcriptional status (presence or absence of viral gag RNA) was determined by real-time PCR in both unfractionated and individually enriched leukocyte subsets (CD4+, CD8+, and CD21+) from peripheral blood, MLN, and spleen. Only unfractionated leukocytes were interrogated from the distal small intestinal tract due to a low number of total leukocytes collected from this compartment. Values for viral nucleic acid load determined for unfractionated leukocytes from each compartment represented the overall FIV replication status for that tissue compartment (Fig 2). Cell-free plasma from each cat was also examined for the presence of viral gag RNA (vRNA). Viral gag RNA was not detected in the cell free plasma or unfractionated PBMC samples of any of the FIV-infected or uninfected cats, consistent with our previous reports describing an inactive viral transcriptional signature in the peripheral blood of these asymptomatic FIV-infected cats.[7,8] FIV provirus (viral gag DNA) was detected in unfractionated PBMC, MLN, spleen and intestinal samples from all infected cats. Importantly, only lymphoid tissue-derived unfractionated leukocytes revealed detectable vRNA, whereas vRNA remained undetectable in unfractionated PBMCs. For an unknown reason, vRNA was not detected from any compartment from FIV-infected cat 184, while control (GAPDH RNA) was detected from all of this cat's tissues. Neither viral gag DNA (vDNA) nor vRNA were found in any blood or tissue derived-unfractionated leukocytes collected from the uninfected control cats. These findings support our hypothesis that leukocyte subsets isolated from spleen, MLN, and intestine from FIV-infected cats during the late asymptomatic phase will generally demonstrate ongoing viral replication based on the presence of detectable vRNA by real-time PCR. There were no statistically significant differences in median vDNA or vRNA loads for all FIV-infected cats between compartments when compared by student's t-test. As previously reported9, the LTNP cat 187 showed the lowest vDNA load among all the FIV-infected cats in unfractionated PBMCs and lymph node tissue-derived leukocytes, and also in splenic leukocytes in this study. Interestingly, the intestine-derived leukocytes from this LTNP cat showed a greater mean proviral load (2.1 x 102 vDNA copies/106 GAPDH ± 2.2 x 101) than the progressor cats (9.5 x 101 vDNA copies/106 GAPDH ± 4.9 x 101), and held statistical significance (p = 0.003). In contrast, vRNA load was lower in all tissues for this cat, again with the exception of intestinal-derived leukocytes, where mean viral RNA load was greatest (3.4 x 104 copies vRNA/106 GAPDH ± 1.3 x 103; p = 0.04) among the FIV-infected progressor cats (7.7 x 103 copies vRNA/106 GAPDH ± 3.6 x 103).