An integrated method for the identification of novel genes related to oral cancer
ABSTRACT
---
Cancer is a significant public health problem worldwide. Complete identification of genes related to one type of cancer facilitates earlier diagnosis and effective treatments. In this study, two widely used algorithms, the random walk with restart algorithm and the shortest path algorithm, were adopted to construct two parameterized computational methods, namely, an RWR-based method and an SP-based method; based on these methods, an integrated method was constructed for identifying novel disease genes. To validate the utility of the integrated method, data for oral cancer were used, on which the RWR-based and SP-based methods were trained, thereby building two optimal methods. The integrated method combining these optimal methods was further adopted to identify the novel genes of oral cancer. As a result, 85 novel genes were inferred, among which eleven genes (e.g., MYD88, FGFR2, NF-κBIA) were identified by both the RWR-based and SP-based methods, 70 genes (e.g., BMP4, IFNG, KITLG) were discovered only by the RWR-based method and four genes (L1R1, MCM6, NOG and CXCR3) were predicted only by the SP-based method. Extensive analyses indicate that several novel genes have strong associations with cancers, indicating the effectiveness of the integrated method for identifying disease genes.
No MeSH data available.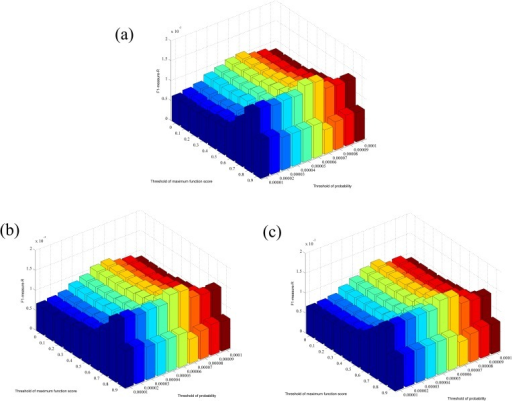 © Copyright Policy
License
getmorefigures.php?uid=PMC5383255&req=5
Mentions: For the RWR-based method, three parameters, the threshold of probability , the threshold of MIS pMIS, and the threshold of MFS pMFS, should be optimized. For , we tried various values ranging from 1E-05 to 1E-04; for pMIS, we tried three values, 400, 700, 900, which are reported in STRING for thresholds of medium confidence, high confidence and highest confidence, respectively; for pMFS, we tried various values ranging from 0 to 0.9. The measurements mentioned in the Section "Evaluation methods" for the RWR-based method with different combinations of parameters are listed in S2 Table. For ease of observation, the values of F1-measure-R obtained using the RWR-based method with different parameters are illustrated in Fig 1; we can see the same level of performance when the parameters and pMFS are equivalent. The maximum F1-measure-R was 1.677E-03 when the parameters were set to be , pMFS = 0.8 and pMIS = 400 or 700. Because this combination of parameters yielded the best performance, they were used to build the optimal RWR-based method, which is adopted to identify novel OC-related genes.