Risk analysis of use of different classes of antidepressants on subsequent dementia: A nationwide cohort study in Taiwan
ABSTRACT
---
Depression and dementia are common mental health problems and are associated in several ways. Early-life depression is associated with increased risk of later life dementia, and depression can present as a preclinical symptom or consequence of dementia. Despite the plausible relationship between these two clinical entities, the potential association between antidepressant medication and dementia has rarely been investigated. We conducted a 9-year retrospective analysis of Taiwan's National Health Insurance Research Database (NHIRD), enrolling 5819 cases who had received prescriptions of antidepressants between 2003 and 2006, and 23,276 (with ratio of 1:4) age, sex, and index date-matched controls. The hazard ratio (HR) of dementia among antidepressant users with depression was 2.42 (95% confidence interval (CI): 1.15–5.10), for those without depression was 4.05 (95% CI: 3.19–5.15), compared to antidepressant non-users respectively. Among the 6 classes of common antidepressants used in Taiwan, the adjusted HRs were 3.66 (95% CI: 2.62–5.09) for SSRIs, 4.73 (95% CI: 2.54–8.80) for SNRI, 3.26 (95% CI: 2.30–4.63) for TCAs, 6.62 (95% CI: 3.34–13.13) for TeCA, 4.94 (95% CI: 2.17–11.24) for MAOI, and 4.48 (95% CI: 3.13–6.40) for SARI. Furthermore, the multivariate analysis result showed that the adjusted HRs of cumulative defined daily doses (cDDDs) were 3.74 (95% CI: 2.91–4.82), 3.73 (95% CI: 2.39–5.80) and 5.22 (95% CI: 3.35–8.14) for those who had cDDDs of <90, 90–180 and >180 compared to those who had taken no antidepressant medication. This is a retrospective study based on secondary data, hence, we could not claim causality between antidepressant medication and dementia. However, a potential association between antidepressant and occurrence of dementia after controlling for the status of depression was observed. Lack of patients' data about smoking status and body mass index in NHIRD, which are considered related to dementia, was also a limitation in this study. In this study, we concluded that antidepressant medication is a potential risk factor for dementia, independent from any effect of depression itself.
No MeSH data available.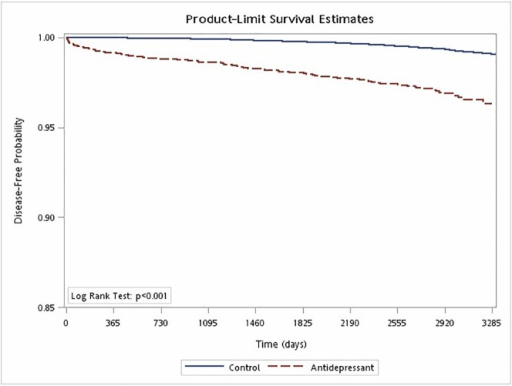 © Copyright Policy
License
getmorefigures.php?uid=PMC5383251&req=5
Mentions: The median follow-up times to dementia and their interquartile ranges for antidepressant users and nonuser were 6.74 [5.72–7.82] and 8.89 [8.75–8.93] years, respectively. The log-rank test indicated that cases were associated with a higher risk of dementia than controls (p < .001) (Fig 2). In terms of risk factors for dementia, age was positively correlated with an increased risk of dementia (Adjusted HR = 1.12 [95% CI: 1.11–1.14]). The incidence of dementia for antidepressant users was 2.68 per 100 persons, and the CI was 2.28–3.13 per 100 persons, while the incidence of dementia for non-antidepressant users was 0.86 per 100 persons, and the CI was 0.74–0.99 per 100 persons. We first applied the Cox proportional hazards model to the time to dementia since the first index date with the age, sex, insurance amount, region, urbanicity, depression, antidepressant usage, stroke, DM, hypertension, hyperlipidemia, depression, insomnia, anxiety, and CCI score as the predictors. All the predictors here are categorical including many binary indicators, except age. In order to examine whether the depression could be a potential confounder in evaluating the risk of antidepressant on dementia, we further added the interaction between depression and antidepressant medication to this regression model. Our results show no significant interaction was observed between these two entities (p = 0.193). That is, although the adjusted HR for antidepressant may seem slightly higher for patient without depression than that for patient with depression (4.05 [3.19–5.15] vs. 2.42 [1.15–5.10]), the difference in HRs is not significant. Moreover, we only list the results of the predictors excluding the last eight disease risk factors which we would like to control. We note that age (p < .001), insurance amount (p < .001), urbanicity (p = .017), CCI score (p = .033), depression (p = .011), and antidepressant usage (p < .001) are significant (Table 2). The appropriateness of the Cox proportional hazards model is supported by the plot in S1 Fig, where the log(-log(survival function)) versus log(survival time) are plotted for case and control groups separately.