Functional studies of E . faecalis RNase J2 and its role in virulence and fitness
ABSTRACT
---
Post-transcriptional control provides bacterial pathogens a method by which they can rapidly adapt to environmental change. Dual exo- and endonucleolytic activities of RNase J enzymes contribute to Gram-positive RNA processing and decay. First discovered in Bacillus subtilis, RNase J1 plays a key role in mRNA maturation and degradation, while the function of the paralogue RNase J2 is largely unknown. Previously, we discovered that deletion of the Enterococcus faecalis rnjB gene significantly attenuates expression of a major virulence factor involved in enterococcal pathogenesis, the Ebp pili. In this work, we demonstrate that E. faecalis rnjB encodes an active RNase J2, and that the ribonuclease activity of RNase J2 is required for regulation of Ebp pili. To further investigate how rnjB affects E. faecalis gene expression on a global scale, we compared transcriptomes of the E. faecalis strain OG1RF with its isogenic rnjB deletion mutant (ΔrnjB). In addition to Ebp pili regulation, previously demonstrated to have a profound effect on the ability of E. faecalis to form biofilm or establish infection, we identified that rnjB regulates the expression of several other genes involved in bacterial virulence and fitness, including gls24 (a virulence factor important in stress response). We further demonstrated that the E. faecalis RNase J2 deletion mutant is more sensitive to bile salt and greatly attenuated in in vivo organ infection as determined by an IV-sublethal challenge infection mouse model, indicating that E. faecalis RNase J2 plays an important role in E. faecalis virulence.
No MeSH data available.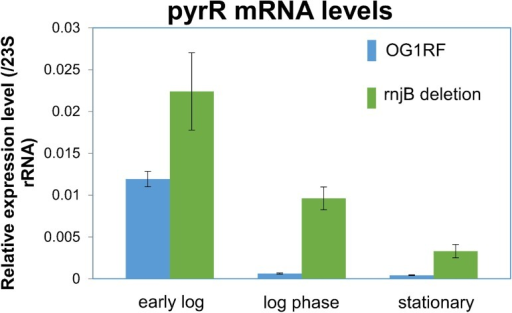 © Copyright Policy
License
getmorefigures.php?uid=PMC5383250&req=5
Mentions: In contrast to genes down regulated in ΔrnjB mentioned above, nine genes of the pyrimidine nucleotide biosynthesis (Pyr) operon, ef1712-1720, pyrP,B,Aa,Ab,C,DII,D-2,F,E, demonstrated 3–8 fold increases in expression levels in ΔrnjB compared to wild type. In Bacillus subtilis the pyr operon is regulated by the first gene of the operon, pyrR, through an autogenous transcriptional attenuation mechanism [37]. However, the E. faecalis pyrR (ef1721) gene was not represented on the microarray chip, preventing analysis of whether pyrR transcript is affected by rnjB. To investigate the role of rnjB on pyrR transcription, we tested the effect of ΔrnjB on RNA levels of pyrR by qRT-PCR. As shown in Fig 5, mRNA levels of the pyrR gene in ΔrnjB were 2, 15 and 7.8 -fold higher than those of wild type in early log, mid-log and stationary phase cultures respectively. This result, together with the transcriptome analysis, demonstrated that rnjB affects the whole pyr operon, likely through the regulation of pyrR transcription.