Daily oral consumption of hydrolyzed type 1 collagen is chondroprotective and anti-inflammatory in murine posttraumatic osteoarthritis
ABSTRACT
---
Osteoarthritis (OA) is a degenerative joint disease for which there are no disease modifying therapies. Thus, strategies that offer chondroprotective or regenerative capability represent a critical unmet need. Recently, oral consumption of a hydrolyzed type 1 collagen (hCol1) preparation has been reported to reduce pain in human OA and support a positive influence on chondrocyte function. To evaluate the tissue and cellular basis for these effects, we examined the impact of orally administered hCol1 in a model of posttraumatic OA (PTOA). In addition to standard chow, male C57BL/6J mice were provided a daily oral dietary supplement of hCol1 and a meniscal-ligamentous injury was induced on the right knee. At various time points post-injury, hydroxyproline (hProline) assays were performed on blood samples to confirm hCol1 delivery, and joints were harvested for tissue and molecular analyses were performed, including histomorphometry, OARSI and synovial scoring, immunohistochemistry and mRNA expression studies. Confirming ingestion of the supplements, serum hProline levels were elevated in experimental mice administered hCol1. In the hCol1 supplemented mice, chondroprotective effects were observed in injured knee joints, with dose-dependent increases in cartilage area, chondrocyte number and proteoglycan matrix at 3 and 12 weeks post-injury. Preservation of cartilage and increased chondrocyte numbers correlated with reductions in MMP13 protein levels and apoptosis, respectively. Supplemented mice also displayed reduced synovial hyperplasia that paralleled a reduction in Tnf mRNA, suggesting an anti-inflammatory effect. These findings establish that in the context of murine knee PTOA, daily oral consumption of hCol1 is chondroprotective, anti-apoptotic in articular chondrocytes, and anti-inflammatory. While the underlying mechanism driving these effects is yet to be determined, these findings provide the first tissue and cellular level information explaining the already published evidence of symptom relief supported by hCol1 in human knee OA. These results suggest that oral consumption of hCol1 is disease modifying in the context of PTOA.
No MeSH data available.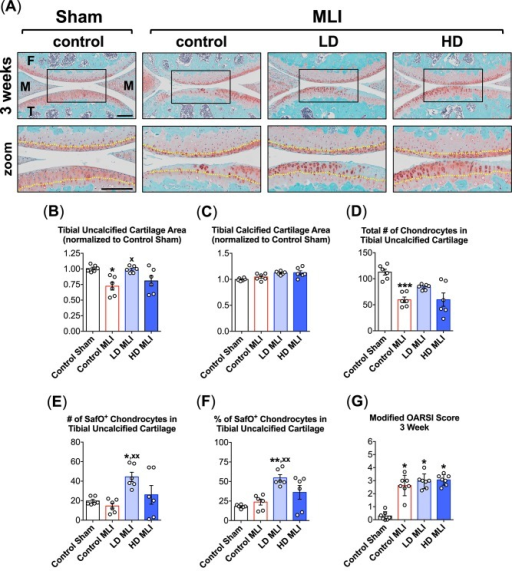 © Copyright Policy
License
getmorefigures.php?uid=PMC5383229&req=5
Mentions: While the automated histomorphometry approach was useful in identifying protective effects of hCol1 in PTOA, the underlying changes in cartilage architecture and cellularity that contributed to the overall preservation of total tibial cartilage were not discernable using this method. Thus, additional analyses were performed on Safranin O/Fast Green- or Alcian Blue Hematoxylin/Orange G-stained sections using a manual histomorphometry approach (Osteomeasure system) as well as standardized OARSI cartilage scoring. At 3 weeks post-MLI, there were observable differences in cartilage architecture between experimental groups, including apparent preservation of tibial uncalcified cartilage and cellularity in this zone in mice supplemented with hCol1. Consistent with the automated analysis (Fig 2B), reduction of tibial uncalcified cartilage area following MLI was mitigated significantly by hCol1 supplementation, with the LD group showing significant effects and the HD trending in that direction (Fig 3B). Regarding calcified cartilage area (tide mark to osteochondral junction), MLI had no effect and neither did hCol1 supplementation (Fig 3C). Loss of chondrocytes from the tibial uncalcified zone following MLI appeared to be reduced in LD and HD hCol1 fed animals (Fig 3A), but this trend failed to achieve statistical significance (Fig 3D). Suggesting that hCol1 supports chondrocyte proteoglycan matrix production at the 3 week time point post-MLI, the number and percentage of Safranin O-positive chondrocyte lacunae were significantly increased in LD hCol1-supplemented mice, with the HD group trending in that direction (Fig 3E and 3F). Finally, the impact of MLI on the joint cartilage 3 weeks post injury was significant based on OARSI scoring, but the generalized analysis of cartilage content using this scoring system was not sensitive enough to identify any improvement in the hCol1 supplemented groups (Fig 3G). It should be noted that there were no significant differences between experimental groups in other structural analyses performed, including uncalcified and calcified cartilage area on the femoral condyles and the number of hypertrophic chondrocytes, and in any zone of the cartilage on the femoral condyles and tibial plateaus (data not shown). Also of note, the apparent inability of HD hCol1 to match the efficacy of LD hCol1 in preserving uncalcified cartilage and Safranin O-positive chondrocyte populations at 3 weeks post-MLI may be due to two outlier samples in the HD group that caused a large error (Fig 2B, 2E & 2F).