A novel intrinsically disordered outer membrane lipoprotein of Aggregatibacter actinomycetemcomitans binds various cytokines and plays a role in biofilm response to interleukin-1 β and interleukin-8
ABSTRACT
---
Intrinsically disordered proteins (IDPs) do not have a well-defined and stable 3-dimensional fold. Some IDPs can function as either transient or permanent binders of other proteins and may interact with an array of ligands by adopting different conformations. A novel outer membrane lipoprotein, bacterial interleukin receptor I (BilRI) of the opportunistic oral pathogen Aggregatibacter actinomycetemcomitans binds a key gatekeeper proinflammatory cytokine interleukin (IL)-1β. Because the amino acid sequence of the novel lipoprotein resembles that of fibrinogen binder A of Haemophilus ducreyi, BilRI could have the potential to bind other proteins, such as host matrix proteins. However, from the tested host matrix proteins, BilRI interacted with neither collagen nor fibrinogen. Instead, the recombinant non-lipidated BilRI, which was intrinsically disordered, bound various pro/anti-inflammatory cytokines, such as IL-8, tumor necrosis factor (TNF)-α, interferon (IFN)-γ and IL-10. Moreover, BilRI played a role in the in vitro sensing of IL-1β and IL-8 because low concentrations of cytokines did not decrease the amount of extracellular DNA in the matrix of bilRI− mutant biofilm as they did in the matrix of wild-type biofilm when the biofilms were exposed to recombinant cytokines for 22 hours. BilRI played a role in the internalization of IL-1β in the gingival model system but did not affect either IL-8 or IL-6 uptake. However, bilRI deletion did not entirely prevent IL-1β internalization, and the binding of cytokines to BilRI was relatively weak. Thus, BilRI might sequester cytokines on the surface of A. actinomycetemcomitans to facilitate the internalization process in low local cytokine concentrations.
No MeSH data available.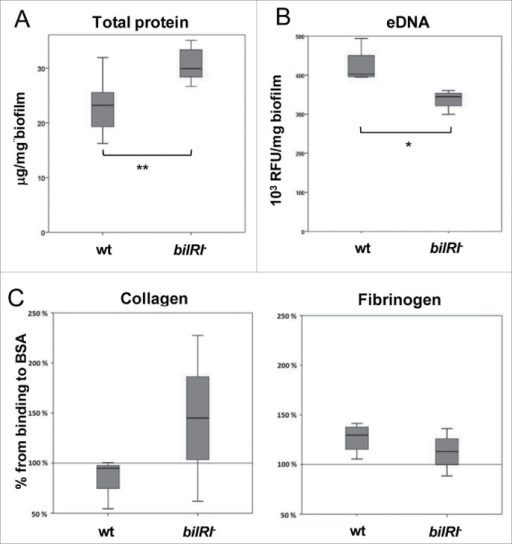 © Copyright Policy - open-access
License
getmorefigures.php?uid=PMC5383217&req=5
Mentions: The prokaryotic operon database (ProOpDB, http://operons.ibt.unam.mx/OperonPredictor)30 predicted that bilRI is a stand-alone gene. When cultured on blood agar plates, the single-gene-deletion mutant of bilRI produced typical colonies with a rough colony morphology (Fig. 4A). Although the bilRI−mutant colonies were slightly more adherent to the agar than the wild-type colonies, cell suspensions31 could be produced similarly from both strains (Fig. 4B). However, BilRI overexpression resulted in a tiny colony size, and only small amounts of bacteria could be harvested from the plates. Nonetheless, an even cell suspension could be attained (Fig. 4B). The bilRI− mutant formed as much biofilm as the wild-type strain in rich medium, whereas the overexpression of BilRI in A. actinomycetemcomitans almost completely disappeared the cell's capacity to form biofilm (p = 0.0003, paired-samples T-test with Bonferroni corrections) (Fig. 4C). In biofilm, the cell morphology of bilRI− mutants did not differ from the morphology of the wild-type strain (Fig. 4D). BilRI overexpression appeared to cause outer membrane lysis (Fig. 4D), explaining the tiny colonies (Fig. 4A) and small cell size (Fig. 4D). In rich medium, the young biofilm, i.e., the biofilm that had not started to detach by releasing cells into the medium,32 of the bilRI− mutant strain contained more total protein in proportion to the biofilm mass than the wild-type A. actinomycetemcomitans strain (p = 0.009; Mann-Whitney U-test) (Fig. 5A). In contrast, the bilRI− mutant biofilm contained less eDNA than the wild-type strain (p = 0.021; Mann-Whitney U-test) (Fig. 5B). Because some outer membrane proteins of A. actinomycetemcomitans or close relative species bind to host proteins, such as collagen and fibrinogen, we studied the binding of the bilRI− mutant to these host proteins. bilRI deletion did not decrease the binding of A. actinomycetemcomitans to either fibrinogen- or collagen-coated wells (Fig. 5C). In contrast, the bilRI− mutant bound collagen slightly more efficiently than the corresponding wild-type strain, but the difference was not statistically significant (p = 0.275; Mann-Whitney U-test, Fig. 5C).Figure 4.