A novel intrinsically disordered outer membrane lipoprotein of Aggregatibacter actinomycetemcomitans binds various cytokines and plays a role in biofilm response to interleukin-1 β and interleukin-8
ABSTRACT
---
Intrinsically disordered proteins (IDPs) do not have a well-defined and stable 3-dimensional fold. Some IDPs can function as either transient or permanent binders of other proteins and may interact with an array of ligands by adopting different conformations. A novel outer membrane lipoprotein, bacterial interleukin receptor I (BilRI) of the opportunistic oral pathogen Aggregatibacter actinomycetemcomitans binds a key gatekeeper proinflammatory cytokine interleukin (IL)-1β. Because the amino acid sequence of the novel lipoprotein resembles that of fibrinogen binder A of Haemophilus ducreyi, BilRI could have the potential to bind other proteins, such as host matrix proteins. However, from the tested host matrix proteins, BilRI interacted with neither collagen nor fibrinogen. Instead, the recombinant non-lipidated BilRI, which was intrinsically disordered, bound various pro/anti-inflammatory cytokines, such as IL-8, tumor necrosis factor (TNF)-α, interferon (IFN)-γ and IL-10. Moreover, BilRI played a role in the in vitro sensing of IL-1β and IL-8 because low concentrations of cytokines did not decrease the amount of extracellular DNA in the matrix of bilRI− mutant biofilm as they did in the matrix of wild-type biofilm when the biofilms were exposed to recombinant cytokines for 22 hours. BilRI played a role in the internalization of IL-1β in the gingival model system but did not affect either IL-8 or IL-6 uptake. However, bilRI deletion did not entirely prevent IL-1β internalization, and the binding of cytokines to BilRI was relatively weak. Thus, BilRI might sequester cytokines on the surface of A. actinomycetemcomitans to facilitate the internalization process in low local cytokine concentrations.
No MeSH data available.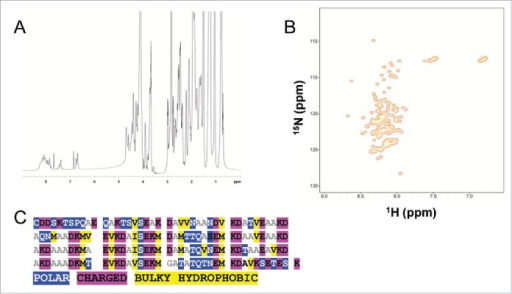 © Copyright Policy - open-access
License
getmorefigures.php?uid=PMC5383217&req=5
Mentions: The proton (1H) spectrum of BilRI measured at 600 MHz exhibits features typical of a disordered protein, including a collapsed chemical shift dispersion in the amide proton region (8.2 ± 0.3 1H ppm) and the lack of shielded methyl protons, i.e., clustering of methyl protons to so-called random coil shift, 0.7 ppm (Fig. 1A). To confirm these observations, we also performed a 2-dimensional 1H, 15N heteronuclear single-quantum coherence (15N HSQC) experiment at the 800-MHz 1H frequency of BilRI (Fig. 1B). To slow down the chemical exchange of labile amide protons with solvent protons, we measured the 15N HSQC spectrum of BilRI under mildly acidic conditions (pH 5). This spectrum more clearly highlights the same features already visible in the corresponding 1H spectrum, i.e., poor dispersion of amide proton chemical shifts, indicating that BilRI remains disordered in solution and under slightly acidic conditions.29 The amino acid sequence analysis supported this finding, showing high numbers of charged and polar residues and a low number of hydrophobic bulky amino acids (Fig. 1C). Moreover, the BilRI sequence had a low complexity, i.e., biased amino acid composition: it did not have any aromatic amino acids, such as phenylalanine, tyrosine and tryptophan, and 48% of the sequence is made up of 3 residues: alanine, lysine and aspartate (Fig. 1C). All of the above-mentioned amino acid sequence features are typical for IDPs.Figure 1.