High-precision 14 C and 40 Ar/ 39 Ar dating of the Campanian Ignimbrite (Y-5) reconciles the time-scales of climatic-cultural processes at 40 ka
ABSTRACT
---
The Late Pleistocene Campanian Ignimbrite (CI) super-eruption (Southern Italy) is the largest known volcanic event in the Mediterranean area. The CI tephra is widely dispersed through western Eurasia and occurs in close stratigraphic association with significant palaeoclimatic and Palaeolithic cultural events. Here we present new high-precision 14C (34.29 ± 0.09 14C kyr BP, 1σ) and 40Ar/39Ar (39.85 ± 0.14 ka, 95% confidence level) dating results for the age of the CI eruption, which substantially improve upon or augment previous age determinations and permit fuller exploitation of the chronological potential of the CI tephra marker. These results provide a robust pair of 14C and 40Ar/39Ar ages for refining both the radiocarbon calibration curve and the Late Pleistocene time-scale at ca. 40 ka. In addition, these new age constraints provide compelling chronological evidence for the significance of the combined influence of the CI eruption and Heinrich Event 4 on European climate and potentially evolutionary processes of the Early Upper Palaeolithic.
No MeSH data available.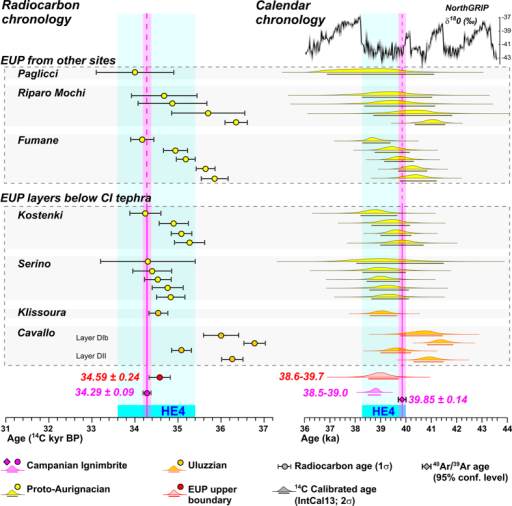 © Copyright Policy - open-access
License
getmorefigures.php?uid=PMC5382912&req=5
Mentions: Our new 14C age for CI allows us to reassess the timing of the Early Upper Palaeolithic (EUP) bio-cultural evolution in Europe that occurred in very close temporal relationship with CI eruption. Specifically, at several European archaeological sites the CI occurs as a key marker at, or near, the top of EUP cultural horizons of either Proto-Aurignacian or Uluzzian techno-complexes (e.g. refs 6, 7, 8, 19, 22, 23, 24, 25, 26, 27, 28, 29, 30, 31, 32, 33, 34, 35, 36, 37, 38, 39, 40, 41, 42, 43, 44), which have been demonstrated be regionally diachronic cultural phenomena24. Specifically, while the Uluzzian persisted in Apulia, southern Italy, and in Greece until ~35–34 14C kyr BP, i.e., until the 14C age of the CI eruption (Fig. 4), elsewhere in southern Italy (e.g. Castelcivita, Campania; Fig. 1) this techno-culture was replaced by, or evolved into the Proto-Aurignacian24 a few centuries to millennia before the CI eruption. Despite this favourable and unique stratigraphic setting, the lack of reliable radiocarbon dating for the CI has hitherto prevented any direct comparison between the age of the CI and EUP 14C chronologies, and thus to palaeoclimatic events (Fig. 3) at the time of the CI eruption.