High-precision 14 C and 40 Ar/ 39 Ar dating of the Campanian Ignimbrite (Y-5) reconciles the time-scales of climatic-cultural processes at 40 ka
ABSTRACT
---
The Late Pleistocene Campanian Ignimbrite (CI) super-eruption (Southern Italy) is the largest known volcanic event in the Mediterranean area. The CI tephra is widely dispersed through western Eurasia and occurs in close stratigraphic association with significant palaeoclimatic and Palaeolithic cultural events. Here we present new high-precision 14C (34.29 ± 0.09 14C kyr BP, 1σ) and 40Ar/39Ar (39.85 ± 0.14 ka, 95% confidence level) dating results for the age of the CI eruption, which substantially improve upon or augment previous age determinations and permit fuller exploitation of the chronological potential of the CI tephra marker. These results provide a robust pair of 14C and 40Ar/39Ar ages for refining both the radiocarbon calibration curve and the Late Pleistocene time-scale at ca. 40 ka. In addition, these new age constraints provide compelling chronological evidence for the significance of the combined influence of the CI eruption and Heinrich Event 4 on European climate and potentially evolutionary processes of the Early Upper Palaeolithic.
No MeSH data available.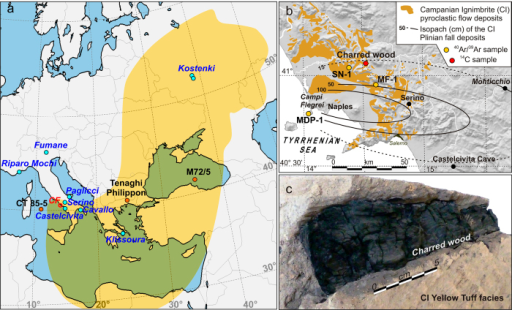 © Copyright Policy - open-access
License
getmorefigures.php?uid=PMC5382912&req=5
Mentions: Full realization of the potential of a marker tephra is a function of: (i) unequivocal correlations from site-to-site based on a host of parameters such as lithology, geochemistry, paleomagnetism, and approximate age; (ii) accurate knowledge of its dispersal area, and (iii) detailed assessment of stratigraphic events and processes in the sections where the tephra is found. In the framework of western Eurasian tephrostratigraphy, the Campanian Ignimbrite (CI, southern Italy, circa 40 ka2), the unique European super-eruption (e.g. ref. 3), is certainly the most widespread (Fig. 1a and b) and relevant tephra marker. Thunnel et al.4 first recognized the large dispersal of the CI by correlating on-land outcrops to the widespread Y-5 marine layer. Interest in the eruption in the last decade has included recognition of the CI horizon in distal localities (e.g. refs 5, 6, 7, 8, 9, 10, 11, 12), investigation of the geochemical glass composition (e.g. refs 12 and 13), physical volcanology of proximal Plinian deposits (e.g. ref. 14) as well as distal ash (e.g. refs 12 and 15), modelling of eruption dynamics and tephra dispersal (e.g. ref. 3), relationship of the stratigraphic position of the CI tephra relative to palaeoclimatic (e.g. refs 16 and 17) and palaeomagnetic (e.g. ref. 18) events and Palaeolithic cultural entities5678, the potential impact of the eruption on climate and human ecosystems (e.g. refs 7, 8, 19, 20, 21, 22), and new and improved 14C chronology in sections that include the CI tephra232425.