Screening the active compounds of Phellodendri Amurensis cortex for treating prostate cancer by high-throughput chinmedomics
ABSTRACT
---
Screening the active compounds of herbal medicines is of importance to modern drug discovery. In this work, an integrative strategy was established to discover the effective compounds and their therapeutic targets using Phellodendri Amurensis cortex (PAC) aimed at inhibiting prostate cancer as a case study. We found that PAC could be inhibited the growth of xenograft tumours of prostate cancer. Global constituents and serum metabolites were analysed by UPLC-MS based on the established chinmedomics analysis method, a total of 54 peaks in the spectrum of PAC were characterised in vitro and 38 peaks were characterised in vivo. Among the 38 compounds characterised in vivo, 29 prototype components were absorbed in serum and nine metabolites were identified in vivo. Thirty-four metabolic biomarkers were related to prostate cancer, and PAC could observably reverse these metabolic biomarkers to their normal level and regulate the disturbedmetabolic profile to a healthy state. A chinmedomics approach showed that ten absorbed constituents, as effective compounds, were associated with the therapeutic effect of PAC. In combination with bioactivity assays, the action targets were also predicted and discovered. As an illustrative case study, the strategy was successfully applied to high-throughput screening of active compounds from herbal medicine.
No MeSH data available.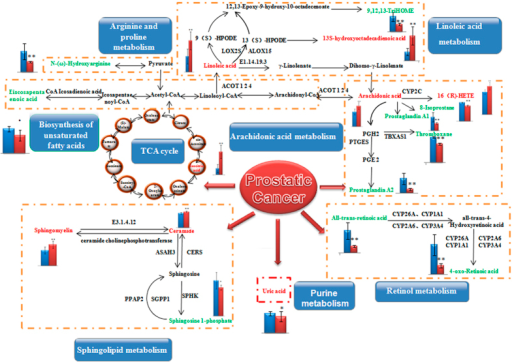 © Copyright Policy - open-access
License
getmorefigures.php?uid=PMC5382783&req=5
Mentions: The identification of the metabolite biomarkers can be conducted using retention time data, precise MS and MS/MS information, and these were detected using the established UPLC-G2-Si-MS/MS method. We characterised the structure of metabolite biomarkers and analysed the related metabolic pathways based on previous benchmarks. Accordingly, a total of 34 metabolite biomarkers (VIP > 3.0, P < 0.05) were identified (Table 3). For example, the identification process was as follows: ESI positive ion mode gave an [M+H]+ ion at m/z 169.0365 and Rt at 0.86 min with high VIP values; based on the MS and MS/MS data, the molecular formula of the ion was speculated as being C5H4N4O3, the MS/MS screening were: m/z 169 [M+H]+; 152 [M+H-H3N]+; 141 [M+H-CO]+; 124[M+H-CH3NO]+ which was characterised as uric acid. The mass spectrum and proposed fragmentation pathway of uric acid are showed in Fig. 3. Among the 34 metabolite biomarkers, 17 biomarkers were up-regulated and 17 down-regulated in the model group. The MetaboAnalyst platform revealed the metabolic pathways which were associated with prostate cancer. Result indicates that 12 metabolism pathways were associated with the pathological process of prostate cancer, such as linoleic acid metabolism, arachidonic acid metabolism, sphingolipid metabolism, glycerophospholipid metabolism, alpha-linolenic acid metabolism, retinol metabolism, glyoxylate and dicarboxylate metabolism, arginine and proline metabolism, purine metabolism, citrate cycle (TCA cycle), biosynthesis of unsaturated fatty acids, and steroid hormone biosynthesis. The detailed metabolic pathways analysis result is shown in Fig. 4 andSupplemental Table 4: according to analysis the correlation between metabolite biomarkers and metabolic pathways, the metabolic networks of metabolite biomarkers were described (Fig. 5).