Pneumonic Plague Transmission, Moramanga, Madagascar, 2015
ABSTRACT
---
During a pneumonic plague outbreak in Moramanga, Madagascar, we identified 4 confirmed, 1 presumptive, and 9 suspected plague case-patients. Human-to-human transmission among close contacts was high (reproductive number 1.44) and the case fatality rate was 71%. Phylogenetic analysis showed that the Yersinia pestis isolates belonged to group q3, different from the previous outbreak.
No MeSH data available.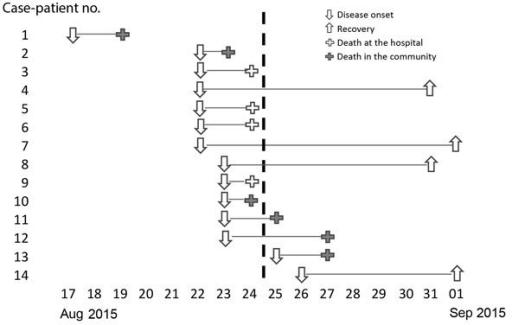 © Copyright Policy
getmorefigures.php?uid=PMC5382734&req=5
Mentions: Over a 10-day period, 14 persons became ill with pneumonia and fever. The first case-patient (case-patient 1) displayed symptoms on August 17, 2015, while in a remote area in Antsahatsianarina hamlet, Tsiazompody village, Ampasipotsy Gara commune, within the Moramanga district of Madagascar (Technical Appendix Table). Case-patient 1 was a 22-year-old man who had traveled 1 week before disease onset. After returning home, he experienced chest pain, fever, and cough. Two days later, his condition deteriorated and, while relatives and neighbors assisted him to the nearest health center, he died near Beravina, Madagascar. He was buried near Beravina in a traditional manner with a 2-night wake, exposing the family and community to the pathogen and initiating a chain of transmission. On August 22 and 23, plague symptoms developed in members of case-patient 1's immediate family (N = 2), his extended family (N = 6), and the community (N = 3). Of these, 4 died, and 7 self-referred to the Moramanga district hospital, where 4 died upon arrival, and 3 survived after a 6- to 9-day course of antimicrobial drug treatment. On August 25, a second chain of transmission (N = 2) was identified (Figure 1). One case-patient was from the outbreak epicenter, and the other was a suspected nosocomial transmission; no connection to the other cases could be found except occupying the same hospital space as some of the earlier case-patients. Transmission ceased with these last 2 case-patients.