Cotton-based Diagnostic Devices
ABSTRACT
---
A good diagnostic procedure avoids wasting medical resources, is easy to use, resists contamination, and provides accurate information quickly to allow for rapid follow-up therapies. We developed a novel diagnostic procedure using a "cotton-based diagnostic device" capable of real-time detection, i.e., in vitro diagnostics (IVD), which avoids reagent contamination problems common to existing biomedical devices and achieves the abovementioned goals of economy, efficiency, ease of use, and speed. Our research reinforces the advantages of an easy-to-use, highly accurate diagnostic device created from an inexpensive and readily available U.S. FDA-approved material (i.e., cotton as flow channel and chromatography paper as reaction zone) that adopts a standard calibration curve method in a buffer system (i.e., nitrite, BSA, urobilinogen and uric acid assays) to accurately obtain semi-quantitative information and limit the cross-contamination common to multiple-use tools. Our system, which specifically targets urinalysis diagnostics and employs a multiple biomarker approach, requires no electricity, no professional training, and is exceptionally portable for use in remote or home settings. This could be particularly useful in less industrialized areas.
No MeSH data available.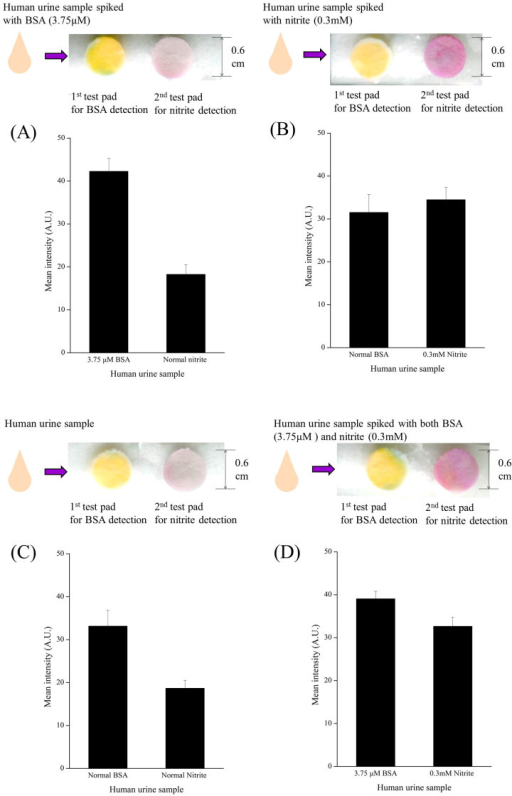 © Copyright Policy - open-access
License
getmorefigures.php?uid=PMC5382709&req=5
Mentions: For multiple target detection in clinical samples, the most difficult problem for IVD devices is cross-contamination of testing specimens. To find out whether our cotton-based device was affected by this issue, we examined clinical samples of urine. According to commercially available dipsticks, the clinical mean for critical urine protein concentration is approximately 1.4 μM, nitrite concentration is approximately 0.3 mM, urobilinogen concentration is approximately 25 μM and pH is approximately 4.6 ~ 8)19203031. To simulate real clinical urine specimens, we spiked BSA (replaced urine protein), nitrite, urobilinogen and hydrochloric acid to create samples that mimicked human physiological conditions. Our results indicate that as the distinguished results on device can be read out by naked eye on different numbers of test pads (2, 3,4 separately) and different diameter of test pads (0.3 cm and 0.6 cm). We could clearly observe that the mean intensity increased approximately 1.2 ~ 1.5 times for urine protein and 2.7 ~ 3 times for nitrite at least and each assay's variation of mean intensity was approximately 4 ~ 9% (Fig. 5, 6 and Table 2). Fig. 7 illustrates the use of 4 separate test pads on cotton-based diagnostic devices and each pad with 0.3 cm diameter for the diagnosis of different analytes (nitrite, BSA, urobilinogen and pH) in a clinical urine, and than different analytes could be directly observed that mean intensity significant increased (nitrite, BSA, urobilinogen) and different color (pH), but urobilinogen assays has different color in the test pad between clinical urine (yellow) and buffer (orange) system (Fig. 3C and E) and pH. The results support the effectiveness of our device in limiting cross-contamination during multiple target detection analyses and suggest it may have potential for use in an array of clinical diagnostic and bio-detection assays. We considered the dilution effect within our cotton-based fluid channel and determined that a calibration could accommodate this effect, because nitrite in normal urine situation is almost non-existent, for example nitrite mean intensity is 20 ~ 40 A.U. can useful range in real urine composition nitrite concentration 0 mM ~ 0.3 mM from Fig. 3A. Becasue urine protein of trace is in normal urine, so our analysis method only displays relative concentrations, for example Table 2 subtracted BSA (urine protein) mean intensity ~ 9 A.U. transform to BSA mean intensity curve ~3.75 μM from Fig. 3B). Visual observation of colorimetric values for BSA in urine samples applied to our cotton-based device achieved the same effect values found when using a commercial dipstick test assay (TERUMO, Japan; No. UA-C03K1), indicating that about 2 times more sensitive than commercial dipstick test assay and thus cotton-based device is more suitable for urine protein detection. (Fig. 8 and Table 3).