Cotton-based Diagnostic Devices
ABSTRACT
---
A good diagnostic procedure avoids wasting medical resources, is easy to use, resists contamination, and provides accurate information quickly to allow for rapid follow-up therapies. We developed a novel diagnostic procedure using a "cotton-based diagnostic device" capable of real-time detection, i.e., in vitro diagnostics (IVD), which avoids reagent contamination problems common to existing biomedical devices and achieves the abovementioned goals of economy, efficiency, ease of use, and speed. Our research reinforces the advantages of an easy-to-use, highly accurate diagnostic device created from an inexpensive and readily available U.S. FDA-approved material (i.e., cotton as flow channel and chromatography paper as reaction zone) that adopts a standard calibration curve method in a buffer system (i.e., nitrite, BSA, urobilinogen and uric acid assays) to accurately obtain semi-quantitative information and limit the cross-contamination common to multiple-use tools. Our system, which specifically targets urinalysis diagnostics and employs a multiple biomarker approach, requires no electricity, no professional training, and is exceptionally portable for use in remote or home settings. This could be particularly useful in less industrialized areas.
No MeSH data available.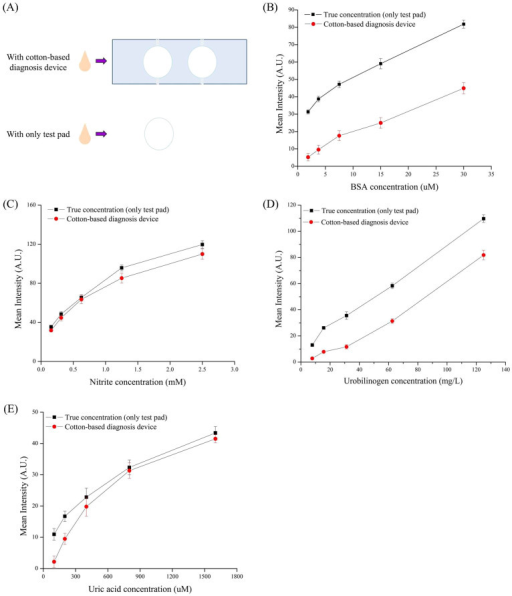 © Copyright Policy - open-access
License
getmorefigures.php?uid=PMC5382709&req=5
Mentions: Commercial products "strip tests" (i.e., lateral flow assays) have already found a place in the medical market (e.g., pregnancy test strips). Enclosed flow channel strip tests have advantages in that they employ the dilution effect to create clearer and amplified ELISA signals. We have compared the experimental data (output signal value) of our cotton-based device and chromatograph paper only (i.e., the test pad of our diagnostic device). We determined standard detection curves for our assays (BSA, nitrite, urobilinogen and uric acid) via our cotton-based device (Fig. 3A~D), and then measured the same samples by dipping them onto test pad paper (Supplementary Fig. 4). Fig. 4B–E show that the output value of the standard curve from our test pad (only) was significantly higher than the curve found using our cotton-based device. These results indicate that our cotton-based device was strongly affected by the dilution effect, which would adversely affect the concentration readout. To overcome this issue, we attempted to establish a compensation curve to calibrate data accuracy (Fig. 3A~D and Table 1). We noted that the difference in output signal value for nitrite analysis between cotton and paper (only) in our study was less severe than in other sample fluids, thus using a cotton-based device is more suitable for nitrite assays than for analysis of BSA, uric acid and urobilinogen in a buffer system. We found that the dilution effect of cotton produced a normal siphon effect in our experiment that lowered our detected concentration. To resolve this, we used a standard calibration curve for our cotton-based diagnostic device in order to more accurately determine results for BSA and uric acid assays (Fig. 4B–E). In addition to examine impact of dilution, we assessed the association of the distance from the device's terminal to the vertical test pad on our cotton-based diagnostic device (Supplementary Fig. 5). Finally, we found proper sequence of the test-pad on our cotton-based device: urobilinogen (1st), urine protein (2nd), uric acid (3rd) and nitrite (4th) and this order optimize our device.