Cotton-based Diagnostic Devices
ABSTRACT
---
A good diagnostic procedure avoids wasting medical resources, is easy to use, resists contamination, and provides accurate information quickly to allow for rapid follow-up therapies. We developed a novel diagnostic procedure using a "cotton-based diagnostic device" capable of real-time detection, i.e., in vitro diagnostics (IVD), which avoids reagent contamination problems common to existing biomedical devices and achieves the abovementioned goals of economy, efficiency, ease of use, and speed. Our research reinforces the advantages of an easy-to-use, highly accurate diagnostic device created from an inexpensive and readily available U.S. FDA-approved material (i.e., cotton as flow channel and chromatography paper as reaction zone) that adopts a standard calibration curve method in a buffer system (i.e., nitrite, BSA, urobilinogen and uric acid assays) to accurately obtain semi-quantitative information and limit the cross-contamination common to multiple-use tools. Our system, which specifically targets urinalysis diagnostics and employs a multiple biomarker approach, requires no electricity, no professional training, and is exceptionally portable for use in remote or home settings. This could be particularly useful in less industrialized areas.
No MeSH data available.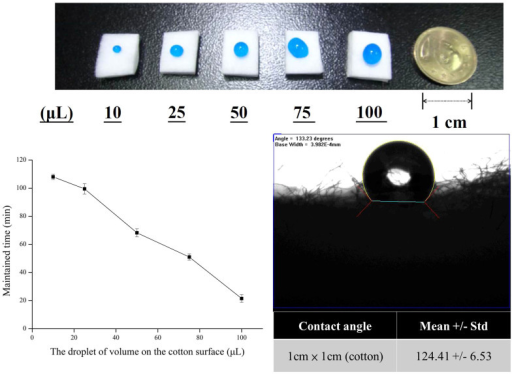 © Copyright Policy - open-access
License
getmorefigures.php?uid=PMC5382709&req=5
Mentions: Cellulose-based materials (e.g., paper and nitrocellulose) have been widely used as a support material/platform for the implementation of both qualitative and quantitative testing including clinical diagnostics (e.g., dengue fever assay, VEGF level), organic/inorganic chemical analysis, environmental/geochemical analysis, pharmaceutical and food chemistry891011121314151617 Cotton, a U.S. FDA-approved material, is also categorized as a fiber-based material with good flexibility and biocompatibility that is suitable for use in creating a lateral flow-based diagnostic device. Interestingly, we found that a cleansing cotton produced by Shiseido® possessed both hydrophilic (inner part of cleansing cotton) and hydrophobic (exterior part of cleansing cotton) characteristics (Fig. 1A) as confirmed by contact angle (Fig. 2 and Supplementary Fig. 1) and maintained time test experiments (Fig. 2). The mean contact angle of the hydrophobic cotton was 124.41 +/− 6.53° (average +/− standard deviation, N = 4) and the limit of maintained droplet of time is as long as possible for the hydrophobic cotton. Fig. 2 illustrates the mean time of water maintained at various water volumes for the cotton used in our device and demonstrates the excellent linear relationship at maximized water volume (100 μL) in a sheet of said hydrophobic cotton (1 cm × 1 cm) and hydrophbic layer of cotton is one of important sections in the cotton-based device that could be affected with greater accuracy (standard curve) and cross contamination or not (Supplementary Fig. 2). We made excellent use of this particular feature, as we attempted to develop a novel diagnostic platform while following the developmental standards for a postamendment medical device, in regard to FDA regulations, that exploits the dual nature of this particular cotton. Colorimetric assays, commonly used, are well suited for paper-based (test pad) assays of the type employed in our cotton-based diagnostic device (Fig. 1C) and the difference of diameter in test pads (0.6 cm and 0.3 cm) could be performed with different variation and sensitivity in the cotton-based device (Supplementary Fig. 3). In this assay, color intensity was distinguishable both by the naked eye and by statistical/semi-quantitative analysis using imaging software (ImageJ).