The global regulator Ncb2 escapes from the core promoter and impacts transcription in response to drug stress in Candida albicans
ABSTRACT
---
Ncb2, the β subunit of NC2 complex, a heterodimeric regulator of transcription was earlier shown to be involved in the activated transcription of CDR1 gene in azole resistant isolate (AR) of Candida albicans. This study examines its genome-wide role by profiling Ncb2 occupancy between genetically matched pair of azole sensitive (AS) and AR clinical isolates. A comparison of Ncb2 recruitment between the two isolates displayed that 29 genes had higher promoter occupancy of Ncb2 in the AR isolate. Additionally, a host of genes exhibited exclusive occupancy of Ncb2 at promoters of either AR or AS isolate. The analysis also divulged new actors of multi-drug resistance, whose transcription was activated owing to the differential occupancy of Ncb2. The conditional, sequence-specific positional escape of Ncb2 from the core promoter in AS isolate and its preferential recruitment to the core promoter of certain genes in AR isolates was most noteworthy means of transcription regulation. Together, we show that positional rearrangement of Ncb2 resulting in either activation or repression of gene expression in response to drug-induced stress, represents a novel regulatory mechanism that opens new opportunities for therapeutic intervention to prevent development of drug tolerance in C. albicans cells.
No MeSH data available.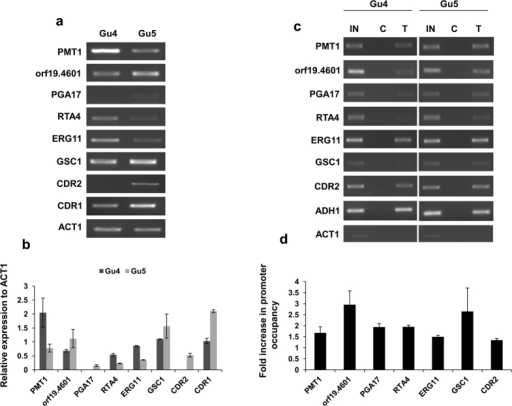 © Copyright Policy - open-access
License
getmorefigures.php?uid=PMC5382705&req=5
Mentions: We compared the genome-wide recruitment data of Ncb2 between AS and AR isolates and thereby, identified genes that showed distinct occupancy of Ncb2 at the promoter regions. The analysis revealed that a number of genes have higher enrichment of Ncb2 occupancy in AR isolate (Supplementary Table S3). This included genes implicated in drug response, filamentous growth, various stresses, pathogenesis, transport, cell wall organization, signal transduction, and biofilm formation (Supplementary Table S4). To establish a relation between the higher occupancy of Ncb2 in AR isolate and gene expression, we randomly selected 6 genes (PMT1, orf19.4601, PGA17, RTA4, ERG11 and GSC1) of interest with different normalized log ratios (enrichments) and P-values. Their expression was checked by semi-quantitative end-point RT (reverse transcription) PCR. CDR1 and CDR2 were used as positive controls. Inspite of the higher Ncb2 occupancy, the expression data showed a mixed response of gene expression. For instance, three genes [orf19.4601 (Putative RNA polymerase III transcription initiation factor complex (TFIIIC) subunit), PGA17 (Putative GPI-anchored protein) and GSC1)] were up-regulated in AR isolate whereas PMT1 (Protein mannosyltransferase), RTA4 (Protein similar to S. cerevisiae Rsb1p, involved in fatty acid transport) and ERG11 were down regulated in AR cells (Fig. 2a,b; Supplementary Fig. S3). The validation though limited, points that the higher occupancy of Ncb2 in AR isolate does not always result in transcriptional activation. Nevertheless, Ncb2 probably manifests dual effect on transcriptional control mechanisms. Since genes that showing higher enrichment in ChIP-on-chip data displayed differential gene expression pattern in AS and AR isolates hence we analyzed the relative recruitment dynamics of Ncb2 in both the isolates. For this, we used ChIPed DNA from AS and AR isolates and subjected to ChIP-PCR analysis which revealed that Ncb2 binding correlates well with the ChIP-on-chip data (Fig. 2c,d; Supplementary Fig. S4).