3D lattice distortions and defect structures in ion-implanted nano-crystals
ABSTRACT
---
Focussed Ion Beam (FIB) milling is a mainstay of nano-scale machining. By manipulating a tightly focussed beam of energetic ions, often gallium (Ga+), FIB can sculpt nanostructures via localised sputtering. This ability to cut solid matter on the nano-scale revolutionised sample preparation across the life, earth and materials sciences. Despite its widespread usage, detailed understanding of the FIB-induced structural damage, intrinsic to the technique, remains elusive. Here we examine the defects caused by FIB in initially pristine objects. Using Bragg Coherent X-ray Diffraction Imaging (BCDI), we are able to spatially-resolve the full lattice strain tensor in FIB-milled gold nano-crystals. We find that every use of FIB causes large lattice distortions. Even very low ion doses, typical of FIB imaging and previously thought negligible, have a dramatic effect. Our results are consistent with a damage microstructure dominated by vacancies, highlighting the importance of free-surfaces in determining which defects are retained. At larger ion fluences, used during FIB-milling, we observe an extended dislocation network that causes stresses far beyond the bulk tensile strength of gold. These observations provide new fundamental insight into the nature of the damage created and the defects that lead to a surprisingly inhomogeneous morphology.
No MeSH data available.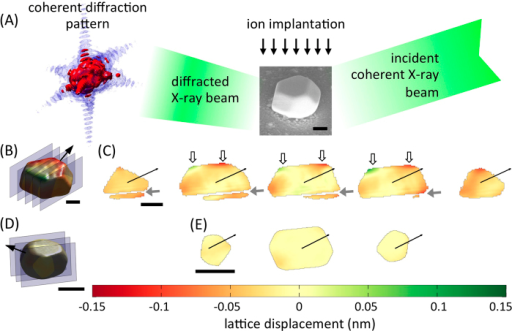 © Copyright Policy - open-access
License
getmorefigures.php?uid=PMC5382701&req=5
Mentions: To investigate in detail the complex changes brought about by FIB milling we concentrate on the non-destructive, three-dimensional nano-scale measurement of FIB-milling-induced lattice strains in initially pristine objects. This is distinct from numerous previous studies where FIB milling was used to relieve pre-existing residual strains161718. Rather our experiments quantify the strains directly caused by the defects introduced by FIB-milling. Gold was chosen as a model system since near-perfect nano-crystals can be reliably grown19. Our experiments use non-destructive Bragg Coherent X-ray Diffraction Imaging (BCDI)20, where a 3D coherent X-ray diffraction pattern (CXDP), i.e. an oversampled 3D reciprocal space map, is collected from a coherently illuminated single crystal (Fig. 1(A))21. The CXDP corresponds to the intensity of the 3D Fourier transform of the electron density in the crystal. By recovering the phase of the CXDP, the real space, complex-valued, electron density can be reconstructed20. Its amplitude provides information about electron density, ρ(r), i.e. the shape of the crystal. Its phase, ψ(r), is linked to displacements, u(r), of atoms from their ideal lattice positions by ψ(r) = q.u(r), where q is the scattering vector of the CXDP. By combining at least three CXDPs with linearly independent q vectors, u(r) can be recovered22, and the full lattice strain tensor, ε(r), determined by differentiating u(r). Thus BCDI allows the 3D nano-scale measurement of both crystal morphology and the full lattice strain tensor.