Long-term treatment with intranasal insulin ameliorates cognitive impairment, tau hyperphosphorylation, and microglial activation in a streptozotocin-induced Alzheimer ' s rat model
ABSTRACT
---
Recent evidence reveals that aberrant brain insulin signaling plays an important role in the pathology of Alzheimer's disease (AD). Intranasal insulin administration has been reported to improve memory and attention in healthy participants and in AD patients. However, the underlying molecular mechanisms are poorly understood. Here, we treated intracerebroventricular streptozotocin-injected (ICV-STZ) rats, a commonly used animal model of sporadic AD, with daily intranasal delivery of insulin (2 U/day) for 6 consecutive weeks and then studied their cognitive function with the Morris water maze test and biochemical changes via Western blotting. We observed cognitive deficits, tau hyperphosphorylation, and neuroinflammation in the brains of ICV-STZ rats. Intranasal insulin treatment for 6 weeks significantly improved cognitive function, attenuated the level of tau hyperphosphorylation, ameliorated microglial activation, and enhanced neurogenesis in ICV-STZ rats. Additionally, our results indicate that intranasal delivery of insulin probably attenuates tau hyperphosphorylation through the down-regulation of ERK1/2 and CaMKII in the brains of ICV-STZ rats. Our findings demonstrate a beneficial effect of intranasal insulin and provide the mechanistic basis for treating AD patients with intranasal insulin.
No MeSH data available.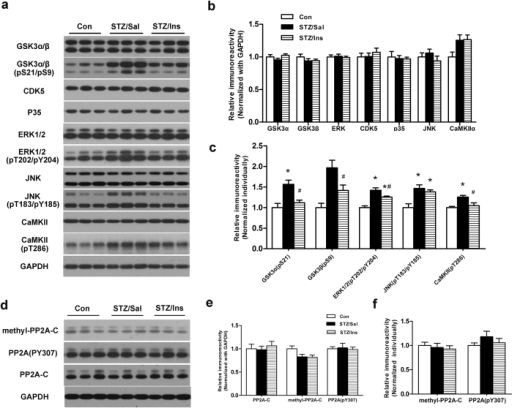 © Copyright Policy - open-access
License
getmorefigures.php?uid=PMC5382700&req=5
Mentions: It is well known that the phosphorylation of tau is related to the activities of its kinases and protein phosphatases21. Although the hyperphosphorylation of tau is well established in the brains of ICV-STZ animals, the levels and activities of these kinases and phosphatases are rarely known. To study the mechanism underlying the increase in tau phosphorylation, we next examined the levels of total and activated forms of specific tau kinases as well as the major tau phosphatases involved in the regulation of tau phosphorylation. Among all the tau kinases, glycogen synthase kinase-3 (GSK-3), cyclin-dependent kinase 5 (cdk5) and its activator p35, mitogen-activated protein kinase/extracellular signal-regulated kinase (MAPK/ERK), c-Jun N-terminal kinase (JNK), and calcium/calmodulin-dependent protein kinase II (CaMKII) are the major tau kinases implicated in AD22. The activation of these kinases is determined by their phosphorylation levels. With the exception of GSK-3, in which the phosphorylation of serine inhibits its activity, the other kinases are activated by their individual phosphorylation. We did not observe any significant differences in the total levels of these tau kinases among groups (Fig. 3a,b). Consistent with our previous studies18, the inhibitory phosphorylation of GSK-3 at Ser9 (GSK-3β) and Ser21 (GSK-3α) was dramatically upregulated in the hippocampus of ICV-STZ rats. Intranasal insulin reduced the phosphorylation level of GSK-3 in the hippocampus of ICV-STZ rats to that of the control rats (Fig. 3a,c). It was apparent that the activation status of GSK-3 was not responsible for the upregulation/downregulation of tau in vehicle/insulin treated ICV-STZ rats. We also evaluated the activation of other kinases (ERK1/2, JNK and CaMKII) in the hippocampus of the ICV-STZ rats. We found that ERK1/2, JNK and CaMKII were activated in ICV-STZ rats as evidenced by the marked increase in the phosphorylation levels of these kinases (Fig. 3a,c). Daily intranasal insulin treatments for 6 weeks decreased the phosphorylation levels of ERK1/2 and CaMKII in the hippocampus of ICV-STZ rats, but the activation of JNK remained unchanged (Fig. 3a,c). Taken together, these findings indicate that the intranasal delivery of insulin probably reduces tau hyperphosphorylation via a down-regulation of ERK1/2 and CaMKII in the brains of ICV-STZ rats.