Period doubling induced by thermal noise amplification in genetic circuits
ABSTRACT
---
Rhythms of life are dictated by oscillations, which take place in a wide rage of biological scales. In bacteria, for example, oscillations have been proven to control many fundamental processes, ranging from gene expression to cell divisions. In genetic circuits, oscillations originate from elemental block such as autorepressors and toggle switches, which produce robust and noise-free cycles with well defined frequency. In some circumstances, the oscillation period of biological functions may double, thus generating bistable behaviors whose ultimate origin is at the basis of intense investigations. Motivated by brain studies, we here study an "elemental" genetic circuit, where a simple nonlinear process interacts with a noisy environment. In the proposed system, nonlinearity naturally arises from the mechanism of cooperative stability, which regulates the concentration of a protein produced during a transcription process. In this elemental model, bistability results from the coherent amplification of environmental fluctuations due to a stochastic resonance of nonlinear origin. This suggests that the period doubling observed in many biological functions might result from the intrinsic interplay between nonlinearity and thermal noise.
No MeSH data available.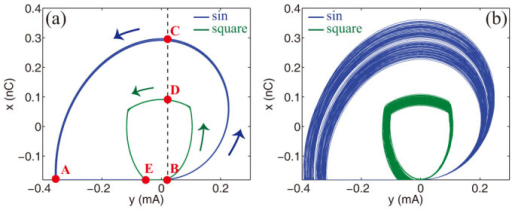 © Copyright Policy - open-access
License
getmorefigures.php?uid=PMC5382689&req=5
Mentions: Figure 2a–c displays the system dynamics when only incoherent noise η(t) is present, with temperature T = 10−7 W. At this temperature, random fluctuations have small amplitudes, and are not strong enough to generate any current in the diode. The circuit therefore behaves as a simple RLC series, with bare frequency ω0 and damping ω0/Q, and its main effect is to produces a "colored" noise (Fig. 2b–c). In the genetic counterpart, this implies that the system maintain a simple oscillating protein concentration p(t). When only a coherent periodic signal Vo sin(ωt) is considered (Fig. 2d–f), with the present parameter choice the source intensity is sufficiently large to induce current in the diode. In this regime, circuits similar to that depicted in Fig. (5) have been investigated in the past, both experimentally37383940 and numerically4142. It has been found that when the diode is characterized by a fixed junction capacity C and when there is no delay in the diode switching —as in the case studied here— the system displays a simple resonant behavior, without bistability, bifurcation or chaos. This behavior is confirmed in the present study: as shown in Fig. 2f, the power density spectrum (here is the Fourier transform of y(t)) is particularly simple, it only shows a strong peak at the input frequency ω = ωp and a rectified component at ω = 0, which originates from the rectifying action of the diode. The very interesting dynamics is observed in Fig. 2g–i, when both coherent and incoherent sources are simultaneously present. In this case, a strong harmonic component at a new frequency, ω = ωp/2, appears, which represents a subharmonic of the input frequency ωp, and period doubling is observed in the dynamics (Fig. 2h–i). Quite remarkably, the strong noise resonance at ω = ω0 (Fig. 2c) disappeared from the dynamics. By comparing the spectra in Fig. 2i and Fig. 2f, we observe that the current power densities P(ω) at ω = ωp (i.e., the input pump frequency) and ω = 0 (i.e., the rectified component) are approximatively the same. The strong subharmonic peak at ωp/2 is therefore the result of the amplification of the noise fluctuating in the background. Stochastic contributions, in particular, are coherently amplified and constructively interact with the input signal thereby sustaining a period doubling (Fig. 2h). To further investigate this process, we calculated the intensity of the peak at ω = ωp/2 for different input frequencies ωp and input amplitudes V0, as reported in Fig. 3. The subharmonic peak at ωp/2 has a resonant-like intensity as a function of the pump frequency, having its maximum when ωp ≈ 3ω0/2 for low value of V0 and red-shifting at higher pump intensity. On increasing V0, the subharmonic peak maximum increases, disappearing for V0 below a ωp-dependent threshold. From Fig. 3, we observe that the efficiency of the subharmonic generation process strongly increases in the region where ωp ≈ ω0.