Radio frequency radiation-induced hyperthermia using Si nanoparticle-based sensitizers for mild cancer therapy
ABSTRACT
---
Offering mild, non-invasive and deep cancer therapy modality, radio frequency (RF) radiation-induced hyperthermia lacks for efficient biodegradable RF sensitizers to selectively target cancer cells and thus avoid side effects. Here, we assess crystalline silicon (Si) based nanomaterials as sensitizers for the RF-induced therapy. Using nanoparticles produced by mechanical grinding of porous silicon and ultraclean laser-ablative synthesis, we report efficient RF-induced heating of aqueous suspensions of the nanoparticles to temperatures above 45-50°C under relatively low nanoparticle concentrations (<1 mg/mL) and RF radiation intensities (1–5 W/cm2). For both types of nanoparticles the heating rate was linearly dependent on nanoparticle concentration, while laser-ablated nanoparticles demonstrated a remarkably higher heating rate than porous silicon-based ones for the whole range of the used concentrations from 0.01 to 0.4 mg/mL. The observed effect is explained by the Joule heating due to the generation of electrical currents at the nanoparticle/water interface. Profiting from the nanoparticle-based hyperthermia, we demonstrate an efficient treatment of Lewis lung carcinoma in vivo. Combined with the possibility of involvement of parallel imaging and treatment channels based on unique optical properties of Si-based nanomaterials, the proposed method promises a new landmark in the development of new modalities for mild cancer therapy.
No MeSH data available.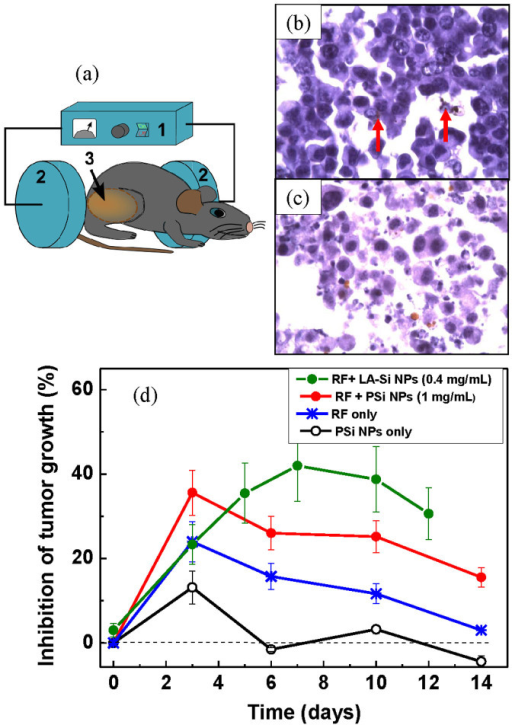 © Copyright Policy - open-access
License
getmorefigures.php?uid=PMC5382688&req=5
Mentions: We finally carried out a series of experiments on the assessment of efficiency of RF radiation-induced treatment in biological models. In vitro studies using 3T3 cells revealed high efficiency of PSi and LA-Si sensitizers for RF therapy. The action of RF radiation on the cells, preliminarily loaded with Si NPs, led to drastic cell elimination with the survivor rate not exceeding 12% and 10% for PSi and LA-Si NPs, respectively, whereas the survival rate under the action of RF radiation alone was higher than 90–95% (see details in Section 5 of SI). Finally, carried out in vivo tests on the hyperthermia-based treatment of cancer tumors using small animal model (see details in Methods section). 0.5 mL aqueous suspensions of Si-based NPs or equal volumes of sterile water were intratumorally injected and the mice were kept for 15–20 min prior to their RF exposure. Then the mice were immobilized and irradiated with RF for 2 minutes as shown in Fig. 4a. Figure 4b shows a histological image of the tumor performed 1 hour after the injection of Si NPs and Fig. 4c shows the image of tumor at the 3-rd day after the RF-based treatment using PSi NPs as nanosensitizers. One can see that the cancer cells (visible as dark blue spots) experienced a substantial disaggregation after the treatment procedure. Results of the treatment were quantified by the evolution of the total volume occupied by tumor cells. Here, the inhibition of tumor growth was calculated using the following formula: where V and V0 are the averaged tumor volumes for the experimental and reference groups of mice, respectively. The positive value of inhibition indicates the inhibition of tumor growth, while the negative one signifies that the average volume for the exposed group of mice is larger than that for the reference group. As shown in Figure 4d, PSi NPs themselves can slightly inhibit the tumor growth. This effect can be explained by the toxic effect of free radicals (dangling bonds) from the surface of Si NPs during the dissolution process. Similar slight inhibition of the tumor growth took place under the action of RF radiation alone (Fig. 4d), which is consistent with previous studies234. However, our experiments showed that the combined action of PSi NPs and RF excitation could drastically amplify the effect leading to a much stronger inhibition of the tumor growth. Furthermore, as follows from Fig. 4d and Fig. S6 of SI, the efficiency of one time treatment was so high that the average volume of tumor at the 3-rd day after the combined action (V = 160 mm3) becomes smaller than that volume at the very beginning (day 0) of experiment (V0 = 210 mm3). In fact, it means that even without any special optimization of the therapy procedure we achieved a partial elimination of the tumor. As follows from Fig. 4d, laser-ablated NPs provided even more pronounced inhibition of tumor growth after the action of RF radiation (V = 130 mm3) and this effect was observed under much lower number and concentration of NPs (0.2 mL at 0.4 mg/mL compared to 0.5 mL at 1 mg/mL in the case of PSi NPs). Furthermore, we recorded quite different temporal evolution of tumor inhibition after the RF treatment using laser-ablated and PSi NPs sensitizers. Here, the maximal tumor inhibition for LA-Si NPs was observed much later (6–7th days compared to the 3rd day for PSi NPs). These data illustrate a different character of the interaction laser-ablated NPs with biological systems. It should be noted that laser-ablated nanoparticles present an essentially novel object, which is not yet completely studied. Detailed examination of properties of these NPs and their interaction with biological systems will be a subject of our future research. The efficiency of RF radiation-based therapy using PSi and LA-Si sensitizers was confirmed by mice viability tests. Indeed, in average we observed 20–25% increase of mice lifetime after the intratumoral injection of both NPs, followed by RF radiation-based treatment (see details in Section 8 of SI).