High Salt Intake Augments Excitability of PVN Neurons in Rats: Role of the Endoplasmic Reticulum Ca 2+ Store
ABSTRACT
---
High salt (HS) intake sensitizes central autonomic circuitry leading to sympathoexcitation. However, its underlying mechanisms are not fully understood. We hypothesized that inhibition of PVN endoplasmic reticulum (ER) Ca2+ store function would augment PVN neuronal excitability and sympathetic nerve activity (SNA). We further hypothesized that a 2% (NaCl) HS diet for 5 weeks would reduce ER Ca2+ store function and increase excitability of PVN neurons with axon projections to the rostral ventrolateral medulla (PVN-RVLM) identified by retrograde label. PVN microinjection of the ER Ca2+ ATPase inhibitor thapsigargin (TG) increased SNA and mean arterial pressure (MAP) in a dose-dependent manner in rats with a normal salt (NS) diet (0.4%NaCl). In contrast, sympathoexcitatory responses to PVN TG were significantly (p < 0.05) blunted in HS treated rats compared to NS treatment. In whole cell current-clamp recordings from PVN-RVLM neurons, graded current injections evoked graded increases in spike frequency. Maximum discharge was significantly augmented (p < 0.05) by HS diet compared to NS group. Bath application of TG (0.5 μM) increased excitability of PVN-RVLM neurons in NS (p < 0.05), yet had no significant effect in HS rats. Our data indicate that HS intake augments excitability of PVN-RVLM neurons. Inhibition of the ER Ca2+-ATPase and depletion of Ca2+ store likely plays a role in increasing PVN neuronal excitability, which may underlie the mechanisms of sympathoexcitation in rats with chronic HS intake.
No MeSH data available.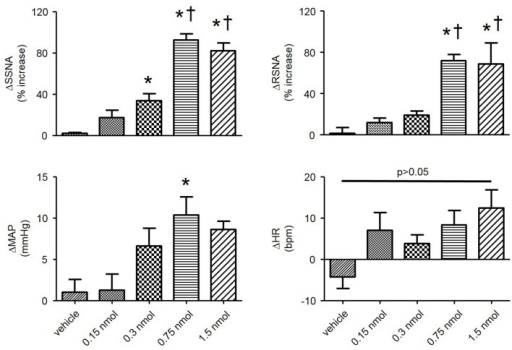 © Copyright Policy
License
getmorefigures.php?uid=PMC5382644&req=5
Mentions: In order to determine the contribution of the PVN neuronal ER Ca2+ stores in regulating SNA and ABP, we performed bilateral microinjection of TG into the PVN. PVN microinjection of TG elicited robust increases in SNA and ABP demonstrated in the raw trace data in Figure 1. Microinjection of TG (0.15 nmol, n = 4; 0.3 nmol, n = 5; 0.75 nmol, n = 6) increased splanchnic SNA (SSNA), renal SNA (RSNA), and MAP in a dose dependent manner. Maximum increases in SSNA, RSNA and mean arterial pressure (MAP) elicited by PVN TG (0.75 nmol/100 nl; n = 6) were 92 ± 6% (P < 0.05 vs. vehicle), 72 ± 6% (P < 0.05 vs. vehicle), and 10 ± 2 mmHg (P < 0.05 vs. vehicle), respectively as shown in Figure 2. Bilateral microinjection of vehicle (DMSO, 100 nL) into the PVN failed to elicit any significant response (P > 0.05 vs. baseline) in SNA, MAP or HR (Figures 1, 2). There were no significant differences in HR between any TG treatment dose and vehicle control (Figure 2). Bilateral microinjection of TG (0.75 nmol, 100 nl) outside of the PVN (~2.5 mm lateral to midline) failed to produce any significant change in SSNA (10.5 ± 8.1%), RSNA (4.4 ± 7.1%), or MAP (1 ± 1 mmHg) respectively, indicating that the effects of TG appear to be site specific (Table 1). In addition, the maximally effective dose of TG was injected into the femoral vein in order to exclude the possible influence of peripheral actions. IV administration of TG had no significant effect on resting SSNA, RSNA, MAP, and HR (Table 1).