Crystal structure of bromido- fac -tricarbon ­ yl[5-(3,4,5-tri ­ meth ­ oxy ­ phen ­ yl)-3-(pyridin-2-yl)-1 H -1,2,4-triazole- κ 2 N 2 , N 3 ]rhenium(I) methanol monosolvate
ABSTRACT
---
In the title compound, [ReBr(C16H16N4O3)(CO)3]·CH3OH, the ReI atom adopts a distorted octa­hedral coordination sphere with a facial arrangement of the three carbonyl ligands. Two N atoms of the chelating 5-(3,4,5-tri­meth­oxy­phen­yl)-3-(pyridin-2-yl)-1H-1,2,4-triazole ligand and two carbonyl ligands define the equatorial plane of the complex, with the third carbonyl ligand and the bromide ligand in axial positions. Conventional hydrogen bonds including the methanol solvent mol­ecules assemble the complex mol­ecules through mutual N—H⋯O—H⋯Br links [N⋯O = 2.703 (3) Å and O⋯Br = 3.255 (2) Å] into centrosymmetric dimers, whereas weaker C—H⋯O and C—H⋯Br hydrogen bonds [C⋯O = 3.215 (3)–3.390 (4) Å and C⋯Br = 3.927 (3) Å] connect the dimers into double layers parallel to the (111) plane.
No MeSH data available.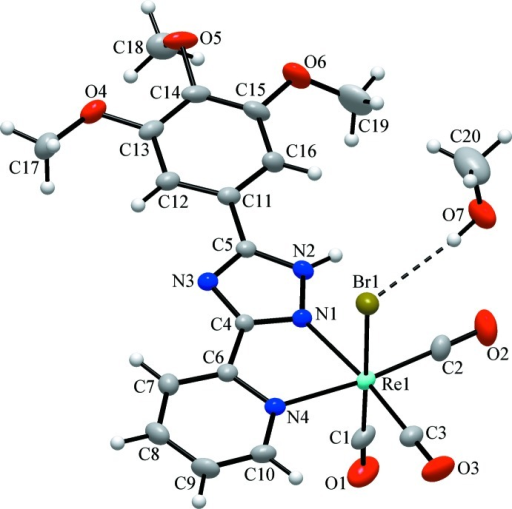 © Copyright Policy - open-access
License
getmorefigures.php?uid=PMC5382604&req=5
Mentions: Triazole derivatives are an inter­esting type of ligand. 1,2,4-Triazoles have biological relevance since they show anti­viral (Abdullah et al., 2012 ▸), anti­bacterial (Varvarason et al., 2000 ▸; Jassim et al., 2011 ▸), anti­fungal (Luo et al., 2009 ▸), anti­cancer (Sztanke et al., 2008 ▸) and anti­tuberculous (Mandal et al., 2010 ▸) activities. Moreover, metal complexes containing triazole derivatives have inter­esting photophysical and photochemical properties (Piletska et al., 2015 ▸; Chen et al., 2013 ▸), and this class of complexes, apart from their biological activity (Chohan & Hanif, 2010 ▸), is used for fluorescent probing in addition to their potential use in radio-imaging. Introduction of substituents in the triazole derivatives affects the σ-donor and π-acceptor properties (Van Diemen et al., 1991 ▸), and consequently affects the photophysical properties of an organometallic compounds in which they are incorporated. In this context, we report here the synthesis and crystal structure analysis of a novel ReI complex, i.e. [ReBr(C16H16N4O3)(CO)3]·CH3OH (Fig. 1 ▸), which contains the triazole ligand 5-(3,4,5-tri­meth­oxy­phen­yl)-3-(pyridin-2-yl)-1H-1,2,4-triazole.