In search of tail-anchored protein machinery in plants: reevaluating the role of arsenite transporters
ABSTRACT
---
Although the mechanisms underlying selective targeting of tail-anchored (TA) membrane proteins are well established in mammalian and yeast cells, little is known about their role in mediating intracellular membrane trafficking in plant cells. However, a recent study suggested that, in green algae, arsenite transporters located in the cytosol (ArsA1 and ArsA2) control the insertion of TA proteins into the membrane-bound organelles. In the present work, we overproduced and purified these hydrophilic proteins to near homogeneity. The analysis of their catalytic properties clearly demonstrates that C. reinhardtii ArsA proteins exhibit oxyanion-independent ATPase activity, as neither arsenite nor antimonite showed strong effects. Co-expression of ArsA proteins with TA-transmembrane regions showed not only that the former interact with the latter, but that ArsA1 does not share the same ligand specificity as ArsA2. Together with a structural model and molecular dynamics simulations, we propose that C. reinhadtii ArsA proteins are not arsenite transporters, but a TA-protein targeting factor. Further, we propose that ArsA targeting specificity is achieved at the ligand level, with ArsA1 mainly carrying TA-proteins to the chloroplast, while ArsA2 to the endoplasmic reticulum.
No MeSH data available.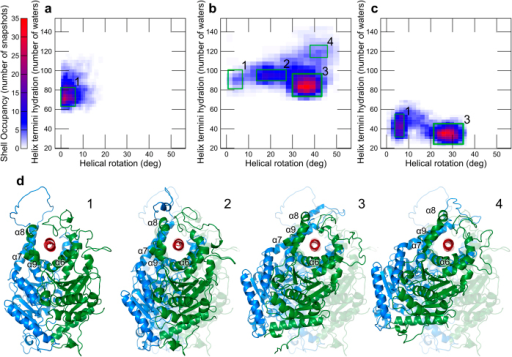 © Copyright Policy - open-access
License
getmorefigures.php?uid=PMC5382584&req=5
Mentions: Once we could establish that Cr-ArsA2 was indeed a TA-binding protein, we decided to take advantage of the recently published Get3 structure1825 to generate a closed state-Cr-ArsA2 model, which we could then compare to other TRC40 like proteins. The resulting 3-D model is a homodimer, which contains most of the Cr-ArsA2 sequence (residue 6 to 357). All features present in Get3, such as two ATPase motifs, and an α-helical hydrophobic groove spanning both monomers, are present. However, since the conserved CXXC motif is absent from Cr-ArsA2 enzyme, a zinc-cysteine coordination site is not present in our model. Limiting the utility of our model is the fact that, in all published TRC40-TA complexes, there is no structural information for the solvent exposed face of the binding groove, where the TRC40-insert is. However, there is strong evidence that the TRC40-insert may serve as a 'lid' to help prevent TA exposure to solvent during targeting, and assist TA substrate insertion into the endoplasmic reticulum (ER) membrane1825. By modeling the regions as disordered loops, followed by MD simulations, we addressed this issue. On the one hand, we generated several high quality models for Cr-ArsA2 in complex with TA protein Pep12, which we could then compare (Fig. 4, Video S1). On the other hand, by subjecting Get3 to the same process, we had a biochemically and structurally very well characterized system, which we used to validate our bio-computational results.