Preparation and Practical Applications of 2 ′ ,7 ′ -Dichlorodihydrofluoresceinin Redox Assays
ABSTRACT
---
Oxidative stress,a state in which intra- or extracellular oxidantproduction outweighs the antioxidative capacity, lies at the basisof many diseases. DCFH2-DA (2′,7′-dichlorodihydrofluoresceindiacetate) is the most widely used fluorogenic probe for the detectionof general oxidative stress. However, the use of DCFH2-DA,as many other fluorogenic redox probes, is mainly confined to thedetection of intracellular oxidative stress in vitro. To expand theapplicability of the probe, an alkaline hydrolysis and solvent extractionprocedure was developed to generate high-purity DCFH2 (2′,7′-dichlorodihydrofluorescein)from DCFH2-DA using basic laboratory equipment. Next, theutility of DCFH2 was exemplified in a variety of cell-freeand in vitro redox assay systems, including oxidant production bytransition metals, photodynamic therapy, activated macrophages, andplatelets, as well as the antioxidative capacity of different antioxidants.In cells, the concomitant use of DCFH2-DA and DCFH2 enabled the measurement and compartmentalized analysis ofintra- and extracellularly produced oxidants, respectively, usinga single read-out parameter. Furthermore, hepatocyte-targeted liposomeswere developed to deliver the carboxylated derivative, 5(6)-carboxy-DCFH2, to hepatocytes in vivo. Liposome-delivered 5(6)-carboxy-DCFH2 enabled real-time visualization and measurement of hepatocellularoxidant production during liver ischemia-reperfusion. The liposomal5(6)-carboxy-DCFH2 can be targeted to other tissues whereoxidative stress is important, including cancer.
No MeSH data available.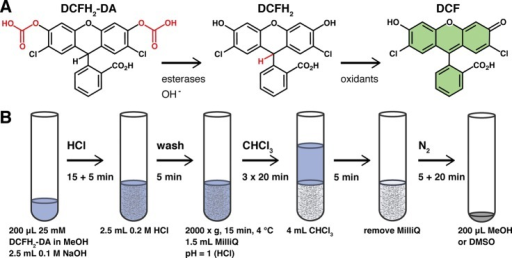 © Copyright Policy
License
getmorefigures.php?uid=PMC5382573&req=5
Mentions: Oxidants in the form of reactiveoxygen or nitrogen species (ROS or RNS), transition metals, and peroxidasesare extensively studied because of their involvement in numerous healthand disease states. To this end, redox-sensitive fluorogenic probesare commonly employed because of their low cost, relative nontoxicity,and easy application.1,2 Of the commercially availableprobes, 2′,7′-dichlorodihydrofluoresceindiacetate (DCFH2-DA) is the most widely used. Followingdiffusion across the plasma membrane, esterases cleave the acetategroups to generate the more hydrophilic 2′,7′-dichlorodihydrofluorescein(DCFH2) that is retained in the cytosol. Oxidation of DCFH2 yields the highly fluorescent 2′,7′-dichlorofluorescein(DCF, λex = 503 nm, λem = 523 nm)that can be measured spectrofluorometrically (Figure 1A). DCFH2 reacts with a wide arrayof oxidants, albeit at different reaction constants.2,3 The probe is therefore an ideal indicator of redox shifts and generaloxidative stress.