Novel benthic foraminifera are abundant and diverse in an area of the abyssal equatorial Pacific licensed for polymetallic nodule exploration
ABSTRACT
---
The benthic biota of the Clarion–Clipperton Zone (CCZ, abyssal eastern equatorial Pacific) is the focus of a major research effort linked to possible future mining of polymetallic nodules. Within the framework of ABYSSLINE, a biological baseline study conducted on behalf of Seabed Resources Development Ltd. in the UK-1 exploration contract area (eastern CCZ, ~4,080 m water depth), we analysed foraminifera (testate protists), including 'live' (Rose Bengal stained) and dead tests, in 5 cores (0–1 cm layer, >150-μm fraction) recovered during separate megacorer deployments inside a 30 by 30 km seafloor area. In both categories (live and dead) we distinguished between complete and fragmented specimens. The outstanding feature of these assemblages is the overwhelming predominance of monothalamids, a group often ignored in foraminiferal studies. These single-chambered foraminifera, which include agglutinated tubes, spheres and komokiaceans, represented 79% of 3,607 complete tests, 98% of 1,798 fragments and 76% of the 416 morphospecies (live and dead combined) in our samples. Only 3.1% of monothalamid species and 9.8% of all species in the UK-1 assemblages are scientifically described and many are rare (29% singletons). Our results emphasise how little is known about foraminifera in abyssal areas that may experience major impacts from future mining activities.
No MeSH data available.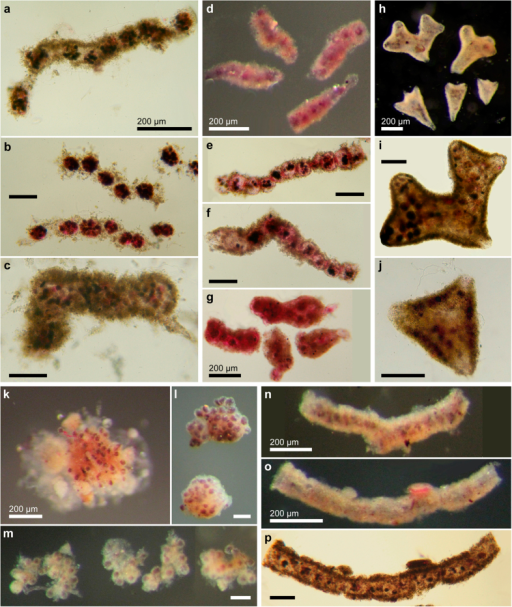 © Copyright Policy - open-access
License
getmorefigures.php?uid=PMC5382569&req=5
Mentions: The majority (21) of the thirty most abundant species occurring as complete specimens (live and dead combined) were monothalamids (Figs 4 and 5, Supplementary Table S4, Supplementary Material S1, and Supplementary Figures S2–S11). They included tubes (7 species), unclassified monothalamids (4), Lagenammina plus flasks (3), spheres (2), komokiaceans, family Komokiidae (2), komokiacean-like (1), Nodellum-like (1) and chain-like (1) forms. Only 9 multichambered species (5 hormosinids, 1 ammodiscid, 1 rotaliid, and 2 MAF) were included in the top 30. Among the top-10 species, 8 were monothalamids while only two (Nuttallides umbonifera, Reophax scorpiurus) were multichambered. Although the majority of the top-30 species occurred in most samples (i.e. 27 species in at least 3 samples), only 4 species were among the top 10 in 3–4 samples, and none were in the top 10 of all samples.