Tribbles in the 21st Century: The Evolving Roles of Tribbles Pseudokinases in Biology and Disease
ABSTRACT
---
The Tribbles (TRIB) pseudokinases control multiple aspects of eukaryotic cell biology and evolved unique features distinguishing them from all other protein kinases. The atypical pseudokinase domain retains a regulated binding platform for substrates, which are ubiquitinated by context-specific E3 ligases. This plastic configuration has also been exploited as a scaffold to support the modulation of canonical MAPK and AKT modules. In this review, we discuss the evolution of TRIBs and their roles in vertebrate cell biology. TRIB2 is the most ancestral member of the family, whereas the emergence of TRIB3 homologs in mammals supports additional biological roles, many of which are currently being dissected. Given their pleiotropic role in diseases, the unusual TRIB pseudokinase conformation provides a highly attractive opportunity for drug design.
No MeSH data available.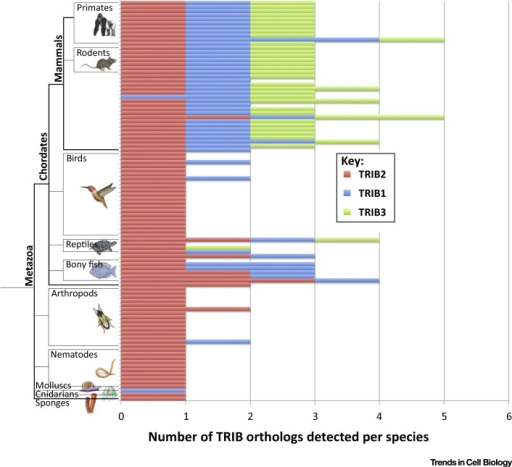 © Copyright Policy - CC BY
License
getmorefigures.php?uid=PMC5382568&req=5
Mentions: To address major knowledge gaps in how the functional specialization of TRIB genes occurred during evolution, we identified and classified TRIB-related sequences from all the major taxonomic groups where they are present (Figure 2). Taxonomic analysis of these sequences demonstrates that they are almost entirely confined to the animal kingdom, and are absent in non-metazoan eukaryote kinomes, including those annotated in fungi, plants, and choanoflagellates. We speculate that this represents a shift towards ubiquitination-based substrate regulation by the TRIB pseudokinase domains in metazoan eukaryotes, although other explanations are possible. As shown in Figure 2, the statistically derived TRIB2 signature sequence is the earliest (most ancestral) member among the TRIB1, 2, and 3 family. Consistently, orthologs of TRIB2 (but not TRIB1 or TRIB3) can readily be detected in the oldest metazoans, such as cnidarians (Nematostella vectensis) and sponges (Amphimedon queenslandica), whereas TRIB1 and TRIB3 orthologs are restricted to specific later metazoan lineages that led to the vertebrates, where all three TRIBs pseudokinases are consistently preserved. It is likely that the emergence of TRIB1 and TRIB3 at later stages of evolution was driven by unique regulatory requirements associated with signaling integration by these proteins in higher organisms. TRIB1 likely appeared through TRIB2 gene duplication during the diversification of vertebrates from invertebrates, since multiple copies of TRIB2 and a single copy of TRIB1 are observed in non-mammalian chordates, such as fish (Actinopterygii) and reptiles. Remarkably, the TRIB3-specific sequence signature appears in all mammalian lineages, and from the extensive data analyzed here, emerged relatively recently during the diversification of mammals from non-mammalian chordates (Figure 2). While most mammalian species harbor at least one copy of TRIB1, 2, and 3, some encode multiple copies, suggesting functionally relevant gene duplications; an extreme version being the marmoset Callithrix jacchus, whose genome encodes three copies of TRIB1, one copy of TRIB2, and 2 copies of TRIB3. The cellular consequences of these duplications are obscure, although we speculate that they represent a requirement for new biological functions associated with higher vertebrates, perhaps including unique TRIB3 roles in highly evolved brains, which might be driven by increased gene dosages of this specific pseudokinase. Whatever their specific functions, TRIB genes have likely been coopted into evolutionarily appropriate biological roles that depend on their unique pseudokinase properties compared with catalytically active kinases (Box 1), which have been defined previously 3, 10, 13, 33, 34, 35, 36.