From rabbit antibody repertoires to rabbit monoclonal antibodies
ABSTRACT
---
In this review, we explain why and how rabbit monoclonal antibodies have become outstanding reagents for laboratory research and increasingly for diagnostic and therapeutic applications. Starting with the unique ontogeny of rabbit B cells that affords highly distinctive antibody repertoires rich in in vivo pruned binders of high diversity, affinity and specificity, we describe the generation of rabbit monoclonal antibodies by hybridoma technology, phage display and alternative methods, along with an account of successful humanization strategies.
No MeSH data available.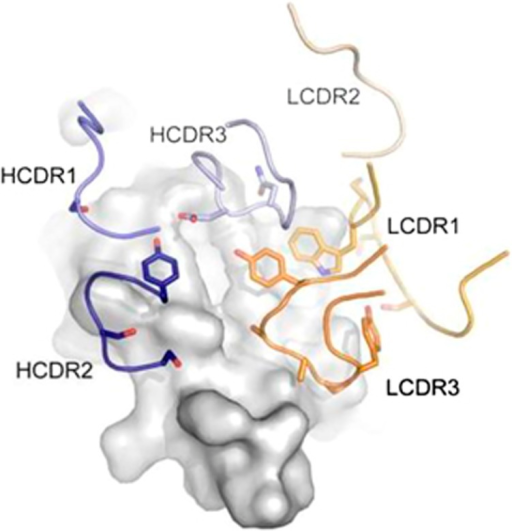 © Copyright Policy - open-access
License
getmorefigures.php?uid=PMC5382564&req=5
Mentions: Although phage display was established with mouse and human antibody libraries to mine immune, naive and synthetic antibody repertoires,120, 141 the fact that rabbit mAbs were difficult to generate by hybridoma technology for a number of years provided a strong incentive for exploring the accessibility of rabbit immune antibody repertoires by phage display. The first rabbit antibody library selected by phage display was reported by Ridder et al.,143 using a scFv format as in subsequent independent studies.39, 40, 144, 145, 146, 147, 148, 149, 150, 151 Rabbit antibody libraries in Fab format followed in short succession.152, 153 Due to the higher expression levels of human compared to rabbit constant domains in bacteria, a chimeric rabbit/human Fab format consisting of rabbit variable domains VL and VH recombinantly fused to human constant domains CL and CH1, respectively, proved particularly successful for the selection of rabbit mAbs by phage display19, 154, 155, 156, 157, 158, 159, 160 and their subsequent humanization (Figure 5).155 However, the above-discussed intrachain disulfide bridge between cysteine 80 and cysteine 171 found in rabbit κ light chains of the dominating K1 isotype posed a challenge to the chimeric rabbit/human Fab format as human CH1 does not harbor a cysteine 171. In fact, only few Fab originating from the K1 isotype were selected,86, 155 indicating that the free thiol group of cysteine 80 is disfavored and that its presence diminishes the selectable diversity of chimeric rabbit/human Fab. Indeed, chimeric rabbit/human Fab derived by phage display from immunized K1-negative Basilea strain rabbits revealed higher sequence diversity and higher affinity compared to those from K1-positive New Zealand White strain rabbits immunized with the same immunogens.86 Interestingly, the same study by Popkov et al. also compared rabbits homozygous for the b9 κ-light-chain allotype (Figure 1) with the presumed alternative intrachain disulfide bridge between cysteine 108 and cysteine 171. Fusion of the rabbit Vκ and human Cκ encoding sequences in the generation of the chimeric rabbit/human Fab library removes cysteine 108, thus avoiding the exposure of a free thiol group. Consequently, immunized b9 allotype rabbits also revealed superior selectable diversity and were subsequently used in several additional studies.21, 32, 161 These include the generation of a chimeric rabbit/human Fab against the HIV-1 protein Rev.99 The Fab was able to invert Rev polymerization and allowed for the formation of Fab-Rev co-crystals that could be analyzed with X-ray crystallography providing the first three-dimensional structure of Rev and the first three-dimensional structure of a rabbit mAb.98 Notably, the crystal structure revealed a dominant role for LCDR3 in the antigen-binding site (Figure 6). A cyclic peptide derived from LCDR3 was shown to bind HIV-1 Rev with high affinity and to potently inhibit Rev polymerization,162 corroborating the functional importance of the above-discussed high sequence diversity of rabbit light chains.