Autogenic succession and deterministic recovery following disturbance in soil bacterial communities
ABSTRACT
---
The response of bacterial communities to environmental change may affect local to global nutrient cycles. However the dynamics of these communities following disturbance are poorly understood, given that they are often evaluated over macro-ecological time scales and end-point measurements. In order to understand the successional trajectory of soil bacterial communities following disturbances and the mechanisms controlling these dynamics at a scale relevant for these organisms, we subjected soil microcosms to a heat disturbance and followed the community composition of active bacteria over 50 days. The disturbance imposed a strong selective pressure that persisted for up to 10 days, after which the importance of stochastic processes increased. Three successional stages were detected: a primary response in which surviving taxa increased in abundance; a secondary response phase during which community dynamics slowed down, and a stability phase (after 29 days), during which the community tended towards its original composition. Phylogenetic turnover patterns indicated that the community experienced stronger deterministic selection during recovery. Thus, soil bacterial communities, despite their extreme diversity and functional redundancy, respond to disturbances like many macro-ecological systems and exhibit path-dependent, autogenic dynamics during secondary succession. These results highlight the role of autogenic factors and successional dynamics in microbial recovery.
No MeSH data available.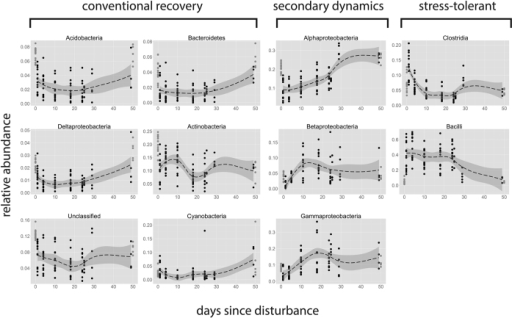 © Copyright Policy - open-access
License
getmorefigures.php?uid=PMC5382530&req=5
Mentions: Temporal responses were analyzed at the phylum, class and OTU levels in terms of the active community. At the phylum level, the pre-disturbance community was dominated by Proteobacteria (38 ± 5.5%), followed by Actinobacteria, Firmicutes and Acidobacteria (20.2 ± 6.3%, 12.1 ± 12.4% and 6.9 ± 1.5%, respectively), and 12.5 +/1.5% of the community was unclassified at the phylum level (Fig. 4). Dominant phyla exhibited temporal dynamics (Kruskal Wallis test, p < 0.01 for all comparisons), and were accordingly classified into three groups. A "conventional recovery" was observed for Acidobacteria, Deltaproteobacteria, Bacteroidetes, Actinobacteria, and unclassified OTUs, which were negatively affected by the disturbance (post-hoc Tukey test, p < 0.01 for comparison between T1 or T4 and T0), but exhibited a gradual recovery thereafter, approaching the relative abundances observed in control soils. Cyanobacterial relative abundances did not differ significantly over time (Fig. 4). "Positive secondary dynamics" were observed for Alphaproteobacteria, Betaproteobacteria, and Gammaproteobateria, which were negatively affected by the disturbance, but rapidly recovered after T4, reaching values even higher than the control values by T10 or T18 for Betaproteobacteria and Gammaproteobateria, and by T29 for Alphaproteobacteria (Fig. 4). "Stress tolerant" Clostridia and Bacilli exhibited a significant increase in relative abundance immediately after disturbance. The relative abundances of Clostridia then quickly decreased, while higher abundance of Bacilli persisted until day 25. In order to confirm that these relative abundance patterns reflected growth and death in Clostridia and Bacilli, and not growth/death in other bacterial taxa following disturbance, we normalized their abundances by the qPCR 16S rRNA counts, and found similar patterns (Supplementary Information, S3).