Mesocarnivores and macroparasites: altitude and land use predict the ticks occurring on red foxes ( Vulpes vulpes )
ABSTRACT
---
Background: The red fox Vulpes vulpes is the most common mesocarnivore in Europe and with a wide geographical distribution and a high density in most terrestrial habitats of the continent. It is fast urbanising species, which can harbor high numbers of different tick species, depending on the region. Here we present the results of a large-scale study, trying to disentangle the intricate relationship between environmental factors and the species composition of ectoparasites in red foxes. The samples were collected in Transylvania (Romania), a region with a diverse geography and high biodiversity. The dead foxes (collected primarily through the National Surveillance Rabies Program) were examined carefully for the presence of ticks.
Results: Ticks (n = 4578) were found on 158 foxes (out of 293 examined; 53.9%). Four species were identified: Dermacentor marginatus, Ixodes canisuga, I. hexagonus and I. ricinus. The most common tick species was I. hexagonus (mean prevalence 37.5%, mean intensity 32.2), followed by I. ricinus (15.0%; 4.86), I. canisuga (4.8%; 7.71) and D. marginatus (3.7%; 3.45). Co-occurrence of two or more tick species on the same host was relatively common (12.6%), the most common co-occurrence being I. hexagonus - I. ricinus. For D. marginatus and I. canisuga the highest prevalence was recorded in lowlands, for I. hexagonus in hilly areas, while for I. ricinus in mountains.
Conclusions: Altitude influenced the intensity of parasitism, with highest intensity observed for all Ixodes species in hilly areas. Dermacentor marginatus occurred only in lowlands, I. canisuga in lowlands and hilly areas while the other two species occurred in all of the regions studied. Foxes from lower altitudes had the most tick species associated, with most incidences of co-parasitism also recorded here. Land use affected tick-species composition, with the presence of D. marginatus strongly associated with the extension of arable areas and lack of forests. The presence of I. hexagonus was determined only by the extent of arable lands. As foxes are frontrunners of wildlife urbanization process, with a continuous increase of their numbers in urban areas, the knowledge of their ticks' ecology (and the pathogens vectored by these) is of utmost importance.
No MeSH data available.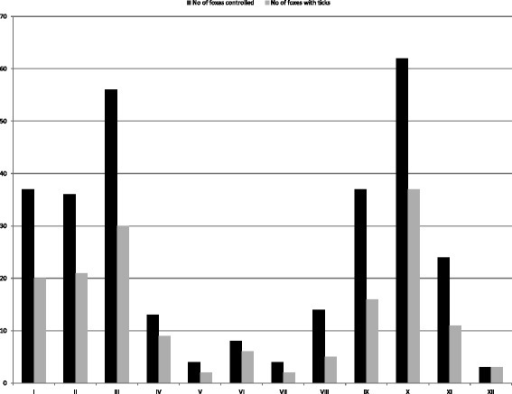 © Copyright Policy - OpenAccess
License 1 - License 2


getmorefigures.php?uid=PMC5382496&req=5

Mentions: Altogether 293 foxes collected from 10 counties and at least 186 different locations were examined for ticks (Fig. 1). For a number of 48 foxes (16.4%), the exact collection site was unknown, thus these were excluded from the geographical analysis. Foxes were collected in each month; however, their distribution was not even, with most foxes hunted in autumn and winter months (due to hunting regulations, Fig. 2). Ticks (n = 4578) were found on 158 foxes (53.9%), with four tick species identified: Dermacentor marginatus, Ixodes canisuga, I. hexagonus and I. ricinus (Table 2). The most common tick species was I. hexagonus (mean prevalence 37.5%, CI: 31.4–43.5; mean intensity 32.2), followed by I. ricinus (mean prevalence 15.0%, CI: 10.1–19.8; mean intensity 4.86), I. canisuga (mean prevalence 4.8%, CI: 2.1–7.5; mean intensity 7.71), and D. marginatus (mean prevalence 3.7%, CI: 1.3–6.1, mean intensity 3.45). Most foxes (n = 104, 65.8%) had a low intensity of parasitism, with less than 5 ticks, while 7 foxes hosted more than 100 ticks, with one individual holding 2229 ticks, all larvae (Fig. 3). Co-occurrence of two or more tick species on the same host was relatively common, with 12.6% of foxes with ticks harboring more than one species (Table 3). The most common co-occurrence of different tick species on single foxes was I. hexagonus - I. ricinus (40% of all co-parasitism cases).Fig. 2