Understanding CD8 + T-cell responses toward the native and alternate HLA-A * 02:01-restricted WT1 epitope
ABSTRACT
---
Ry: The Wilms' tumor 1 (WT1) antigen is expressed in solid and hematological malignancies, but not healthy tissues, making it a promising target for cancer immunotherapies. Immunodominant WT1 epitopes, the native HLA-A2/WT1126-134 (MFPNAPYL) (HLA-A2/RMFPNAPYL epitope (WT1A)) and its modified variant MFPNAPYL (HLA-A2/YMFPNAPYL epitope (WT1B)), can induce WT1-specific CD8+ T cells, although WT1B is more stably bound to HLA-A*02:01. Here, to further determine the benefits of those two targets, we assessed the naive precursor frequencies; immunogenicity and cross-reactivity of CD8+ T cells directed toward these two WT1 epitopes. Ex vivo naive WT1A- and WT1B-specific CD8+ T cells were detected in healthy HLA-A*02:01+ individuals with comparable precursor frequencies (1 in 105–106) to other naive CD8+ T-cell pools (for example, A2/HIV-Gag77-85), but as expected, ~100 × lower than those found in memory populations (influenza, A2/M158-66; EBV, A2/BMLF1280-288). Importantly, only WT1A-specific naive precursors were detected in HLA-A2.1 mice. To further assess the immunogenicity and recruitment of CD8+ T cells responding to WT1A and WT1B, we immunized HLA-A2.1 mice with either peptide. WT1A immunization elicited numerically higher CD8+ T-cell responses to the native tumor epitope following re-stimulation, although both regimens produced functionally similar responses toward WT1A via cytokine analysis and CD107a expression. Interestingly, however, WT1B immunization generated cross-reactive CD8+ T-cell responses to WT1A and could be further expanded by WT1A peptide revealing two distinct populations of single- and cross-reactive WT1A+CD8+ T cells with unique T-cell receptor-αβ gene signatures. Therefore, although both epitopes are immunogenic, the clinical benefits of WT1B vaccination remains debatable and perhaps both peptides may have separate clinical benefits as treatment targets.
No MeSH data available.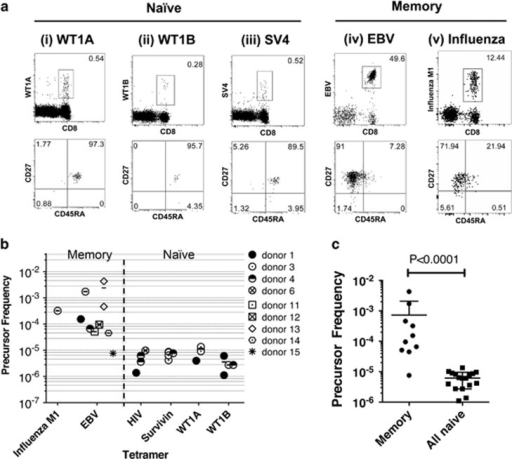 © Copyright Policy - open-access
License
getmorefigures.php?uid=PMC5382434&req=5
Mentions: As naive precursor frequencies can affect the magnitude of effector CD8+ T-cell responses and immunodominance hierarchies,24, 25, 26, 27 we first assessed whether there were any differences in the naive precursor frequencies between WT1A+ and WT1B+ CD8+ T cells. In healthy individuals, WT1A/B-specific CD8+ T cells circulating in the periphery would be classified as 'naive'. Unlike memory T cells, naive antigen-specific CD8+ T cells are present at very low frequencies in the peripheral blood and thus generally fall below the limit of detection with direct ex vivo tetramer staining methods. Thus, to enumerate WT1A- or WT1B-specific naive precursors in healthy HLA-A2+ individuals, we used a tetramer-associated magnetic enrichment (TAME) method, which increases detection of tetramer-positive CD8+ T cells by up to 100-fold.28, 29, 30 Naive TAME was performed on HLA-A2+ healthy donors (starting with ~30 million peripheral blood mononuclear cells) using peptide/MHC-I tetramers specific for WT1A and the WT1B variant, as well as additional epitopes from other naive antigens (HIV and survivin). Tetramers specific for EBV and influenza A epitopes were used as TAME-positive controls for detection of memory CD8+ T-cell populations, which are present in the blood at higher precursor frequencies. For naive enrichments, distinct tetramer+CD8+ T-cell populations of total CD3+ T cells were detected post-enrichment, which mainly co-expressed CD45RA and CD27, markers that are generally characteristic of naive T cells (Figures 1a(i–iii)). Minimal or nil events were detected in the pre-enriched and flow through fractions (Supplementary Figure 1). Cell events higher than 10 were considered above the limit of detection31, 32 with a tight clustering of cells and minimal background staining in the CD8− T-cell population for naive post-enrichment fractions. As expected, memory tetramer+CD8+ T cells were readily detected pre-enrichment, were further enriched following TAME and mainly consisted of a CD27+CD45RA− memory phenotype (Figures 1a(iv) and (v)). As expected, there was no overlap between WT1-tetramer-PE+ and SV-tetramer APC+ populations using combinatorial TAME (Supplementary Figure 1e).